Please click here to report any information you know or believe to be incorrect. We will verify with the church and update the website.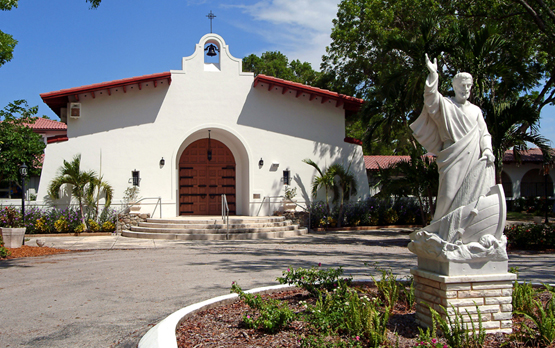 History
The first Catholic church in the Upper Keys since the Spanish missionaries preached to the Caloosa Indians in the eighteenth century, San Pedro began in 1952 as "the Upper Keys Mission" before being named for the San Pedro shipwreck discovered off Plantation Key. Its first Mass, celebrated in an old school house, attracted more than 125 worshipers. Construction began in 1954, and the Spanish mission-style structure, dedicated in 1955, served Catholics along a forty mile stretch from Jewfish Creek to Craig Key. The mission attained parish status in 1959.
San Pedro is a stewardship parish, depending on the generosity and faith of the community and parishioners who give their time, talent and treasure. Although small, the parish provides a variety of ministries. The Women's Guild and Men's Club sponsor many parish events. Religious education classes are available for children in elementary, middle and senior high school. As a seasonal parish, San Pedro invites all visitors to join with the parish family in prayer, and enjoy their fellowship and hospitality.
San Pedro fue la primera iglesia católica en los Upper Keys desde que los misioneros españoles predicaron a los indios Caloosa en el siglo 18. San Pedro se inició en 1952 como "la Misión de los Upper Keys" antes de recibir el nombre de la barca San Pedro, que naufragó en las aguas frente a Plantation Key. Su primera misa, celebrada en una antigua escuela, atrajo a más de 125 fi eles. En 1954 dio inicio la construcción; la estructura, estilo misión española y dedicada en 1955, sirvió a los católicos que residían a lo largo de un estrecho de 40 millas, desde Jewfi sh Creek hasta Craig Key. La misión fue elevada a parroquia en 1959. San Pedro es una parroquia de mayordomía, que depende de la fe y la generosidad de la comunidad y de los feligreses para sostenerse, y espera que estos aporten su tiempo, talento y tesoro. Aunque es una comunidad pequeña, cuenta con una variedad de apostolados. La Cofradía de Damas y el Club de Caballeros patrocinan muchos de los eventos parroquiales, y se ofrecen clases de educación religiosa para niños y jóvenes desde la escuela primario a la superior.
La asistencia a la parroquia varía según la época del año, y la comunidad invita a sus visitantes para que se unan a su familia de oración, y a disfrutar su camaradería y hospitalidad.
San Pedro te premye Legliz Katolik ki te anwo nan "Keys" yo depi Misyonè Espayòl yo te vin preche Endyen Caloosa yo nan dizwityèm syèk. San Pedro kòmanse nan ane 1952 kòm yon Misyon nan zòn Upper Keys. Premye Mès li te selebre nan yon ansyen lekòl ki kounye a vin yon zèl nan "Islamorada Public Library"a, kote 125 fi dèl te asiste. Konstriksyon Legliz la te kòmanse nan ane 1954 e li te dedikase nan ane 1955. Misyon an sèvi Katolik ki soti depi Jewfi sh Creek jiska Craig Key ki gen apeprè 40 kilomèt. Misyon an te vin yon pawas nan ane 1959.
San Pedro ki se yon pawas ki sou gerans total kotizasyon tan, talan ak trezò pawasyen yo bay depann sou jenewozite ak lafwa fi dèl yo. Malgre l piti., pawas la ofri divès kalite apostola. Gwoup Medam yo ansanm ak Gwoup Mesye yo sipote anpil aktivite pawas la. Klas edikasyon religyez disponib pou timoun lekòl primè ak segondè. Kòm yon pawas ki fonksyone nan yon zòn toouristik, San Pedro toujou ap envite tout moun k ap vizite yo pou jwen ansanm ak fanmiy pawas la na lapriyè, konsa yo menm kapab jwi akèy ak fwatenitè paws la ofri.