Please click here to report any information you know or believe to be incorrect. We will verify with the church and update the website.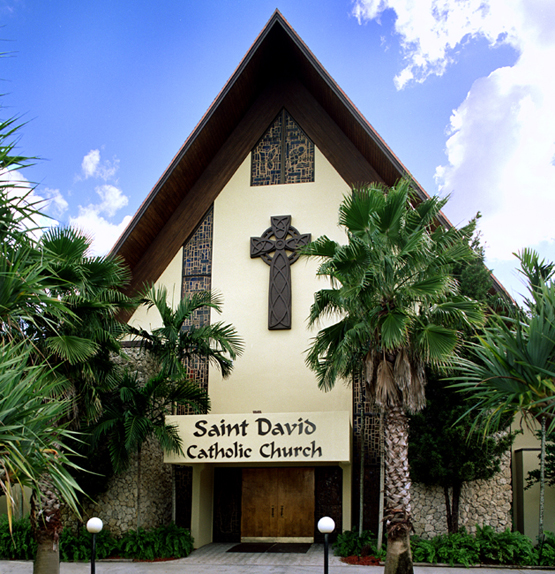 History
Founded in 1974, Saint David began with 200 dedicated worshipers who attended Mass at Eddie Egan's Restaurant and on Saturday evenings at the Dwight D. Eisenhower Grade School. Parishioners formed a Men's Club, a Women's Club, a Saint Vincent de Paul Society, and a religious education program for youngsters. They began construction of a church seating 600 in 1979.
Parishioners added facilities for the parish's social and educational needs in 1982 and in 1983 established a school with a kindergarten through third grade and added a grade every year. The parish built a state of the art school in 1987 with a library, computer and science labs, and classes in art, music, and Spanish. The parish celebrated its twentieth anniversary and the school's tenth anniversary in 1994.
Today, volunteers staff the parish's HOPE Outreach Center, assisting those in financial need, providing food for the hungry and offering after school activities. Twice annually, the parish hosts its famous Country Carnival and transforms its open-air activity center into an ethnic smorgasbord, a fundraiser that supports its many outreach endeavors.
St. David, fundada en 1974, se inició con la asistencia de 200 dedicados feligreses que asistían a la misa en el restaurante Eddie Egan's, y los sábados por la noche en la escuela elemental Dwight D. Eisenhower. Los feligreses establecieron un Club de Caballeros, un Club de Damas, un capítulo de la Sociedad de San Vicente de Paúl, y un programa de educación religiosa para los jóvenes. En 1979 iniciaron la construcción de una iglesia con capacidad para 600 personas.
En 1982, los feligreses añadieron unas instalaciones para satisfacer las necesidades sociales y educativas de la parroquia. En 1983 establecieron una escuela para niños desde preprimaria hasta el tercer grado, y añadieron un grado cada año. La parroquia construyó una moderna escuela en 1987, con biblioteca, laboratorios de ciencia y de computadoras, y clases de arte, música y español. En 1994, la parroquia celebró su vigésimo aniversario y el décimo de la escuela.
En la actualidad, hay voluntarios encargados del centro de servicios HOPE, que ayuda a las personas con necesidades económicas, y ofrece alimentos a los necesitados, además de organizar actividades al concluir la jornada escolar diaria. La parroquia celebra su famoso Country Carnival dos veces al año, cuando sus terrenos acogen a una extensa variedad de grupos étnicos, y los fondos recaudados apoyan sus distintos servicios.
Lè Sen David te fonde an 1974, li te kòmanse ak 200 fi dèl ki te konn vin asiste lamès nan Restauran Eddie Eagan epi lè samdi swa yo te konn asiste lamès nan lekòl primè Dwight D. Eisenhower. Pawasyen yo te kreye yon Men's club (klib gason), yon Women's club (klib fanm), yon sosyete Sen Vinsan de Pòl, ak yon pwogram katechis pou jèn yo. Nan lane 1979 yo te kòmanse bati yon Legliz ki te ka pran 600 moun.
An 1982 pawasyen yo te vin ajoute lòt lokal pou aktivite sosyal ak edikatif pawas la te bezwen. An 1983 yo te bati yon lekòl ki kòmanse nan jadendanfan pou rive nan klas elemantè en, epi chak ane yo te ajoute yon klas. An 1987, pawas la te bati yon bèl lekòl ki te gen ladan l yon bibliyotèk, yon laboratwa infòmatik, yon laboratwa syans, e yo te ofri kou tankou desen, misik, an lang panyòl. Nan lane 1994 pawas la te fete 25 lane de pi li te egiste ansanm ak dizyèm anivèsè lekòl.
Jodi a, gen moun nan pawas la ki volontè nan HOPE Outreach Center pou ede sila you ki gen pwoblèm fi nans, ofri moun ki grangou yo manje, epi ede nan aktivite ki fèt apre lekòl. De fwa pa ane, pawas la òganize yon gwo kanaval (Country Carnival) epi chanje sant kote yo te konn fè aktivite deyò yo an yon festival kiltirèl kote gen tout kalite manje, yon aktivite pou ranmase lajan pou ede nan tout sa yo bezwen pou ede kominote a.