CONTACT INFO
Director
Sister Karen Muñiz, SCTJM
kmuniz@theadom.org
Coordinator of Catechist Formation and Certification
305-762-1085
Administrative Assistant
Yomaira Díaz
305-762-1107
Coordinator of Certification for Catholic School Teachers/Data Entry Manager
Domenick Russo
Office
305-762-1107
305-762-1103
Faith Formation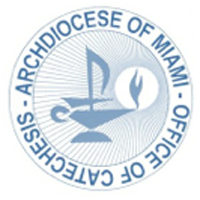 Director's Welcome
Welcome to the Office for Catechesis Webpage!
Click here to visit the Office of Catechesis website
One of the ways the Catholic Church fulfills its Evangelizing mission of bringing of bringing the good news of the Gospel to all is through Catechesis. As the National Director for Catechesis states: "The object of all catechesis is to put people into communion and intimate relationship with Jesus Christ." In other words, it is through Catechesis that the Church echoes and teaches the Word of God, passing on the faith and tradition received to adults, youth and children.
At the Office for Catechesis we are deeply committed to apply the very best of Catholic theology and catechetical theory to the many kinds of catechetical services and programming we provide. Aware of our multicultural and multilingual reality of our Archdiocese of Miami, we strive to be sensitive to the spiritualities and cultural values of the people we serve. We prepare our catechists and catechetical leaders to have a collaborative role with us, with each other, and in their parishes so our Catholic Church of Miami is enriched by people's faith.
If this is your first time visiting us, I hope you find valuable information for your ministry and that you will return often for updates of our services and other important news.
May Lord bless us all and in our catechetical mission!