Bachelor's and Master's Degrees in Philosophy Online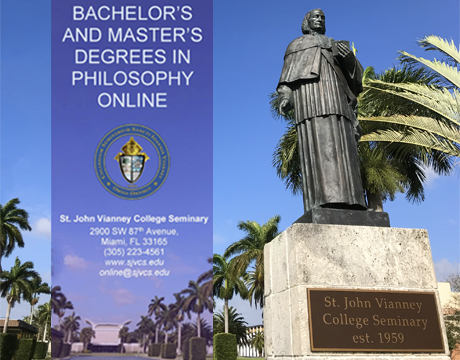 Enrollment ongoing now! Fully accredited online degrees. Fall classes begin Aug. 24. Substantial tuition discounts for employees of the Archdiocese of Miami, the Florida dioceses, laity involved in ministry, clergy and religious communities, and St. John Vianney alumni. Online M.A. in Theology begins Spring 2021.
Show more >>
The Online Philosophy degree programs at St. John Vianney College Seminary aim to give students a solid knowledge and appreciation of the study and discipline of Philosophy in the Roman Catholic Tradition.
Philosophical study in the context of a Catholic Seminary differs from the study of philosophy in a regular college or university in that a greater emphasis is placed not only on the narrative character of philosophy - the idea that philosophy has a "story" that unfolds and mirrors the human person's ongoing search for meaning - but on the character of philosophical study as a true and indispensable aid to the study of theology.
Both of these points of emphasis allow for philosophical study in the context of a Catholic College Seminary to seek to be authentically and uniquely "Catholic" in the true meaning of the word, that is, capable of being open to the fullness of truth in all its manifestations, embracing it in a way that synthesizes all that is true, good and noble in what the tradition has passed on to us while also pushing this tradition forward to bring about a genuine synthesis of the old and the new.
The Online Degree programs at Saint John Vianney were conceived as a way of responding to Pope Francis' challenge for Christians to be "missionary disciples" who go out in the "existential peripheries" of the current age. Through these programs, St. John Vianney College Seminary Miami seeks to reach out in service to the larger faith community and beyond.
The Programs are open to religious and lay students who wish to pursue undergraduate or graduate degrees in Philosophy.
Location
St. John Vianney College Seminary
Online 2900 SW 87th Avenue, Miami, FL 33165 (Map)
Contact Information
Online Coordinator
305-223-4561