St. John Paul II: Church Must Proclaim Gospel of Life
Tuesday, Jan 21, 2020 from 7:45 PM to 9:45 PM - English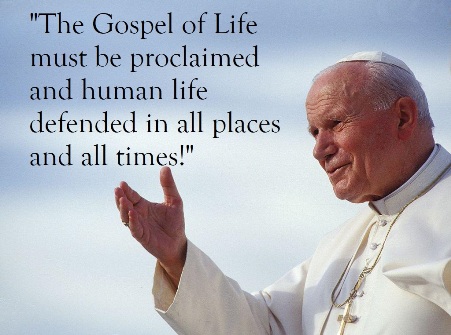 The Church must proclaim 'Gospel of Life'- Letter to bishops by St. John Paul II:
Now the word of the Lord came to me saying: Before I formed you in the womb I knew you, before you were born, I consecrated you; a prophet to the nations I appointed you. -Jeremiah 1:5
As January 22 approaches, designated as the "Day of Prayer for the Legal Protection of Unborn Children" (on the anniversary of "Roe v. Wade" that legalized abortion in 1973), the Community of St. John Paul II invites you to join us on Tuesday, January 21st, for reflections on St. John Paul II's Letter to Bishops (1991), concerning the inviolability of the right to Life.
Additionally, we will briefly examine the decision and consequences of Roe v. Wade and how it has led to the pervasive "culture of death," with over 60 million human beings dead in the USA alone (more than all the wars together), the dehumanization and de-sacralization of life, the denigration of men and women, the wounding of millions of women and families, the disenfranchisement of parents, the darkening of consciences, the corruption of youth, politicians, medical profession, judicial branches, and the democratic processes, as well as the violation of human dignity, human rights and Divine Law.
Please join us in a prayerful reading and discussion of the Letter "Church Must Proclaim 'Gospel of Life'"
Tuesday, January 21st, 7:45 pm, room 206
Good Shepherd Catholic Church.
Sponsored by the Community of St. John Paul II.

Location
Good Shepherd Church
School class room #206 14187 SW 72nd Street, Miami, FL 33183 (Map)
Contact Information
305-772-4951