Cath·o·hól·ic
IX. Beyond the Sun
April 2, 2020
243. At the end, we will find ourselves face to face with the infinite beauty of God (cf. 1 Cor 13:12), and be able to read with admiration and happiness the mystery of the universe, which with us will share in unending plenitude.
Even now we are journeying towards the sabbath of eternity, the new Jerusalem, towards our common home in heaven. Jesus says: "I make all things new" (Rev 21:5).
Eternal life will be a shared experience of awe, in which each creature, resplendently transfigured, will take its rightful place and have something to give those poor men and women who will have been liberated once and for all.
Source : Laudato Si'
Fr. Manny Alvarez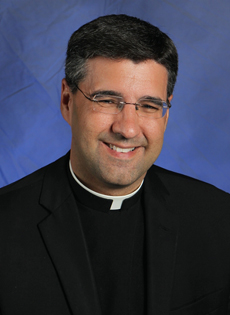 My Dear Friends,
I was so looking forward to spending my first Holy Week at Little Flower with all of you. It goes without saying that it is my favorite week of the year, and we touch so many people through these solemn liturgies that we celebrate. Alas, this is not God's plan for any of us in what will be the most unique Holy Week that any of us have ever experienced. Yet, we are still called to enter into the mystery of Christ's Passion, Death, and Resurrection. Every liturgy that we celebrate during the Paschal Triduum holds a special significance and this year we will experience them in a new way.
So, here is my advice to you for Holy Week. Set time aside as a family or for yourself individually to celebrate these liturgies. We received so many beautiful photos last week of families huddled around their televisions, tablets, and computers to celebrate Sunday Mass as if they were in church. They stood when they were supposed to stand and knelt during consecration. It was a magnificent way of seeing our community united in prayer despite the distance that physically separates us. One of the things I noticed in a lot of the pictures is that some families created a mini altar where the computer or tablet where placed or in front of the television. They had their Bibles opened, perhaps a candle lit, a rosary, a statue of our Blessed Mother or of a saint. One very important thing that I have noticed as well: people get a better experience when they do it live with us. Yes, we have the option of watching the replay of a Mass later in the day, but there is something about doing it live just as the priest is doing it because you feel spiritually united to countless other parish families who are praying with you at that same time.
Here are my suggestions for Holy Week:
Palm Sunday (10:30am): We have the palms being delivered this week, but obviously we can't hand them out. Fortunately, we live in South Florida and we are surrounded by palm trees. Take a sliver of a palm and pass it around your family (just one because we don't want to leave the palm trees of Coral Gables bare). I will bless them virtually at the beginning of Mass, and of course the palms that we bless here in church will be given to you at a later date.
Holy Thursday (7:30pm): Perhaps taking a loaf of bread and some grapes and putting this on your mini altar can better help us to experience the night of the Last Supper. This year we will not be doing the washing of the feet, but we will be doing a Eucharistic Procession inside the church and we will create an altar of repose for the Blessed Sacrament after Mass. We will leave the camera on for an hour after Mass for you to adore the Lord from your homes as we contemplate the beginning of Christ's passion and his agony in the garden that night.
Good Friday (Stations at Noon & Service at 3pm): On Good Friday, we will take you around the church at Noon for the Stations of the Cross. Then at 3pm, the time when our Lord gave up his spirit, we will have the Service with Veneration of the Cross. We encourage each of you to have a crucifix with you so that we can all venerate it together when the time comes during the liturgy.
Holy Saturday (8pm): We begin our Easter celebration with the greatest of all liturgies. Usually this liturgy is highlighted with the baptism of the newest members of the church, but unfortunately that had to be postponed for later. But we will still celebrate the Lord's resurrection with the blessing of the fire, the lighting of the Paschal Candle, and the renewal of baptismal promises, and the joy that comes with the end of Lent. We invite you to light candles with us at home to remember the light of Christ shining in the darkness.
Easter Sunday (10:30am): Here is where we are called to shine. I invite you to dress up in your Sunday best. Perhaps put flowers around your mini altar to celebrate the new life that Christ has given us. We will renew our baptismal vows as a community and celebrate the Risen Lord. Even though we can't host an Easter egg hunt for our children, do one at home! Even if we can't gather as a community in person or even with our family members who don't live with us, make this day special because the Lord is risen!
I'll be posting videos on what to expect each day of Holy Week to better prepare ourselves. We will do everything we can to make these days come alive for you at home. Have a blessed Holy Week!
God bless you all,
Fr. Manny Alvarez
Pastor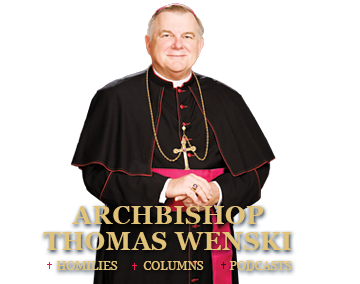 All events have been suspended until further notice.
Click here to read all important statements and guidelines from the Archbishop of Miami regarding the coronavirus. The page will be updated with any new announcement that may occur during the virus outbreak.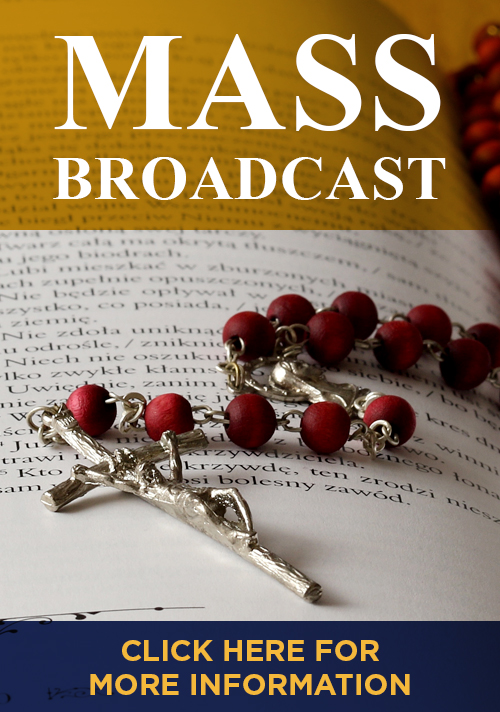 What's going on