CONTACT INFO
Holy Cross Hospital
4725 North Federal Highway
Fort Lauderdale, Florida 33308
954-771-8000
Holy Cross Hospital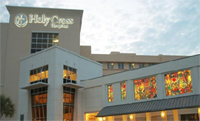 A member of Catholic Health East, Holy Cross Hospital in Fort Lauderdale, Fla. is a full-service, non-profit Catholic hospital, sponsored by the Sisters of Mercy. Since opening its doors in 1955, the 559-bed hospital has offered progressive services and programs to meet the evolving healthcare needs of Broward County. Today, Holy Cross has more than 600 physicians on staff representing more than 40 specialties and more than 3,000 employees. The hospital is fully accredited by the independent Joint Commission and its medical team has earned a reputation for excellence unsurpassed in the community.
CONTACT INFO
HCA Florida Mercy Hospital
Fr. Jean Sterling Laurent, Chaplain
Fr. Pedro Toledo
Fr. Carlos Cabrera
3663 South Miami Avenue,
Miami, FL 33133
305-854-4400
HCA Florida Mercy Hospital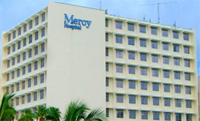 In witness of Jesus' healing mission, Mercy Hospital strives to improve the well-being of those served through a healthcare delivery system designed to promote wellness and cure illness. As a ministry of the Roman Catholic Church, we are committed to being a transforming, healing presence within our community.
Adopting the spirit of the Sisters of St. Joseph of St. Augustine, Florida in "working to achieve unity of neighbor with neighbor and neighbor with God," we attest to the value of human life in all its cycles. This is done through respect for the unborn and recognition of the transcendent meaning of suffering and death by combining professional excellence with a compassionate concern for the whole person.
We seek to understand and respond to the needs of our community through collaboration with others that share a common mission and vision. With attention to fiscal responsibility, quality services are made available and accessible to those who need them.