CONTACT INFO
Judicial Vicar
Msgr. Gregory Wielunski, J.C.D.
305-762-1161
Adjutant Judicial Vicar
Msgr. Michael Souckar, J.C.D.
Defender of the Bond
Father Kenneth Whittaker, J.C.L.
Chorbishop Michael Thomas, J.C.D.
Promoter of Justice
Msgr. Kenneth Schwanger, J.C.D.
Judges
Msgr. Chanel Jeanty, J.C.L.
Father Mathew Thundathil, J.C.D.
Father Fernando Hería, J.C.L.
Father Jude Ezeanokwasa, Ph.D., J.C.D.
Msgr. Tomás Marín, J.C.D.
Dr. Stefano Benigni, J.C.D.
Assessor
Father Luis García
9401 Biscayne Boulevard
Miami Shores, FL 33138
305-762-1161
305-762-1178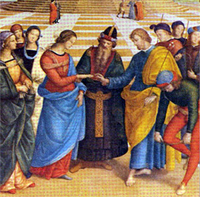 The Metropolitan Tribunal handles those issues relating to marriage, i.e., dispensations and annulments, as well as providing advocates to assist those going through the annulment process.
The Metropolitan Tribunal has an ongoing program at St. Thomas University to train future advocates to assist those in need in all matters concerning the application and practice of Canon Law in a Declaration of Nullity.
The Judicial Vicar is the Presiding Judge of the Metropolitan Tribunal of Court of Law, and is assisted in case management and judicial processes by the judges, advocates, notaries, and other professionals of the court.
The Judicial Vicar is a consultant to the Archbishop and coordinates all aspects of Archdiocesan Administration and services which are concerned with the application and practice of canon law throughout the Archdiocese of Miami.