2022 Human Trafficking Academy
Jul 25, 2022 to Jul 29, 2022 - from 9:00 AM to 3:30 PM - English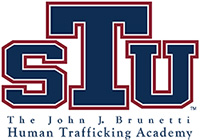 The John J. Brunetti Human Trafficking Academy invites you to be part of a learning experience like no other: an academic exercise on law and policy, coupled with practical engagement in identifying and delving into the root causes of irregular migration, its intersections with human trafficking, past trends in decision, and their conditioning factors. We invite you to dwell deep not only on the concepts, but on the world that the concepts describe and represent.
Meeting in-person at St. Thomas University College of Law in Miami, the Academy challenges you to join us as agents with purpose who will commit to the tasks at hand. We seek change agents with comparable experiences and goals, who understand human motivators behind the root causes and are boldly dedicated to exploring creative, intensional solutions.
Show more >>
The robust curriculum and the interactive working groups will be taught and facilitated by leading experts in the field, who will provide cutting-edge perspectives and insights and share a wealth of experience and knowledge. This intensive certification program is best suited for those pursuing advanced training in migration and human trafficking matters, but all are welcome to attend.
Join us in exploring the ways in the accompaniment of migrants to a decent living safe from exploitation, and to peace through development as the true path to ending modern day slavery!
Learn more at: www.humantraffickingacademy.org/Academy2022
Location
St. Thomas University
College of Law, Moot Court Room 16401 NW 37 Ave, Miami Gardens, FL 33054 (Map)