Vocation Awareness Weekend
Next date: Nov 11, 2022 - click here for time schedule - Bilingual (English and Spanish)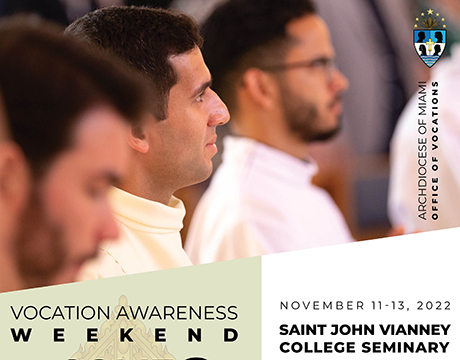 The next Vocations Awareness Weekend will be held November 11-13, 2022, for men ages 17-35. There is no cost for this retreat, however final approval is required for attendance. Once your registration is approved, you will receive a confirmation email with more details about what to bring for the weekend.
If you would like to attend, please contact the Vocation Director, Father Matthew Gomez at [email protected] or by calling 305-762-1137. You may also click on the link below to submit your registration for consideration.
Come and See!
Show more >>
More and more young men are seeking a profound relationship with Jesus Christ and are considering the possibility that they may be called by God to embrace a vocation to the diocesan priesthood.
"Vocation Awareness Weekend" is a retreat for men ages 17-35 who are seeking more information about the priesthood and seminary life. It is held on the grounds of St. John Vianney College Seminary in Miami twice a year (March & November) and consists of numerous workshops, liturgies, and social events with the seminarians.
Participants will have ample time to ask questions, gain an understanding of seminary life and prayerfully consider God's call to the diocesan priesthood.
Documents
Location
St. John Vianney College Seminary
2900 SW 87th Avenue, Miami, FL 33165 (Map)
Contact Information
Father Matthew Gomez
305-762-1137