Catholic Medical Association
Thursday, Jun 1, 2023 at 7:30 PM - English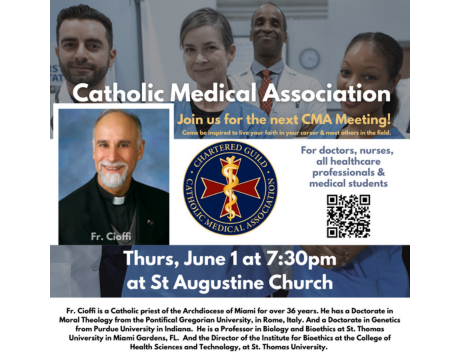 Miami Catholic Medical Association invites all doctors, nurses, healthcare and medical professionals to come Thursday, June 1, at 7:30 p.m. to St. Augustine Church in Coral Gables.
Join us for the next CMA meeting! Come be inspired to live your faith in your career and meet others in the field.
For details: https://forms.gle/91V4ZyoWeC82Upu1A
Guest speaker will be Father Alfred Cioffi, a Catholic priest of the Archdiocese of Miami for over 36 years. He has a doctorate in Moral Theology from the Pontifical Gregorian University in Rome, Italy, and a doctorate in Genetics from Purdue University in Indiana.
He is a professor in Biology and Bioethics at St. Thomas University in Miami Gardens, and the director of the Institute for Bioethics at the College of Health Sciences and Technology, at St. Thomas University.
Location
St. Augustine Church and Catholic Student Center
1400 Miller Road, Coral Gables, FL 33146 (Map)
Contact Information
Michelle Lopez