Father Juan Sosa 50th anniversary celebration
Saturday, May 21, 2022 at 6:00 PM - Bilingual (English and Spanish)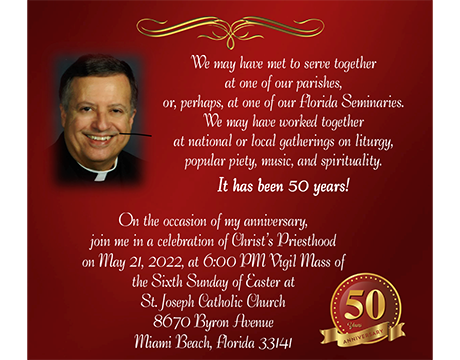 Father Juan Sosa invites the community, particularly all those he may have worked with during his ministry, to celebrate his 50th anniversary in the priesthood during a Mass, May 21, 2022, at 6 p.m. at his current parish, St. Joseph, Miami Beach.
The Mass will be the Vigil Mass for the Sixth Sunday of Easter.
Refreshments will be provided after the Mass.
RSVP by May 10 by calling the church office: 305-866-6567.
Documents
Location
St. Joseph Church
8670 Byron Avenue, Miami Beach, FL 33141 (Map)
Contact Information
305-866-6567