Encuentros Juveniles 50th anniversary celebration
Tuesday, Jan 31, 2023 at 11:00 AM - Bilingual (English and Spanish)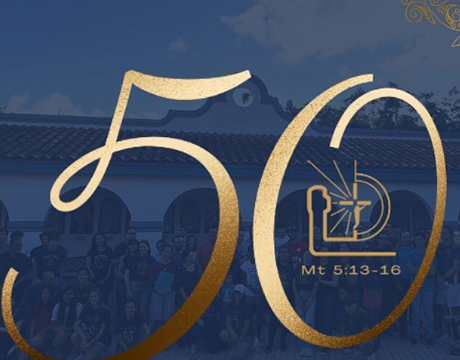 Encuentros Juveniles, a retreat and formation program for youths and young adults that began in the Archdiocese of Miami, will be kicking off its 50th anniversary celebration with a Mass and exhibition Tuesday, Jan. 31.
The Mass will be celebrated by Archbishop Thomas Wenski at 11 a.m. in the Chapel of St. Anthony on the campus of St. Thomas University, 16401 N.W. 37 Ave., Miami Gardens.
Following the Mass, the university's Sardinas Gallery and Favalora Museum will be hosting an exhibition recounting the history of Encuentros Juveniles in the archdiocese.
The gallery and museum are located on the second floor of St. Thomas' main library, a short walk from the chapel.
Refreshments will be served. All are invited.
Location
St. Thomas University
16401 NW 37 Ave, Miami Gardens, FL 33054 (Map)
Contact Information
Isabel Medina
305-628-6769