Please click here to report any information you know or believe to be incorrect. We will verify with the church and update the website.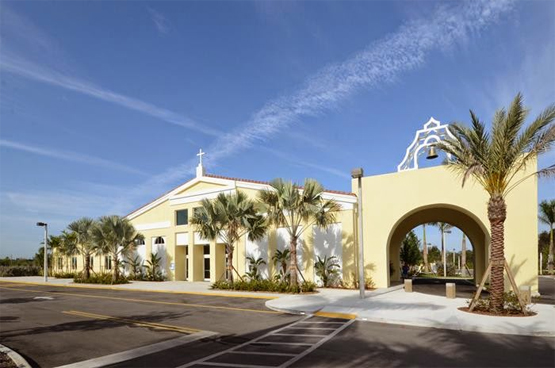 History
St. Katharine Drexel was established July 1, 2001 with Father Paul E. Edwards as administrator. That same month, he conducted introductory meetings about the new parish and gave his vision for its future. Over 200 people attended the meetings, which were conducted in English and Spanish. That August, 20 parishioners each dedicated over 20 hours of service to the parish by preparing a mailing to over 14,000 households announcing its arrival. The first Masses were celebrated at Indian Trace Elementary School on Sunday, Sept. 16, 2001 — just days after the tragic events of the World Trade Center. Over 1,500 people attended: 669 at the English Mass and 889 at the Spanish Mass.
On Sunday, March 3, 2002, the parish held its first St. Katharine Drexel Feast Day Celebration at Markham Park. This consisted of an outdoor Mass, presided by Miami's then Auxiliary Bishop Thomas Wenski, and followed by a parish picnic with lots of food and games. This event continues to be held each year around March 3, the feast day of St. Katharine Drexel.
As the parish approached its first anniversary, Father Edwards asked those early parishioners if they would be willing to become "Founding Members" by committing to the task of laying a solid foundation for the parish community and extending God's kingdom in this part of the world.
On Sunday, Sept. 15, 2002, after negotiations to rent space at 2700 Glades Circle, the parish moved into its own place of worship. Plans to build the new church were sadly interrupted by Father Edwards' diagnosis in August 2005 with a brain tumor, which turned out to be malignant and led to his death, April 22, 2006.
From September 2005 to May 2006, the parish had two temporary administrators: Father Andrzej (Andrew) Pietraszko, who had previously been assigned to St. Katharine Drexel as deacon, became interim administrator until December 2005, when Father Jorge Bello was appointed to the position. At the end of May 2006, Father Pedro M. Corces was named administrator, becoming pastor March 25, 2007.
In April 2010, Father Corces was succeeded as pastor by Father Enrique Delgado, who worked very hard with parishioners to raise the money needed to build the parish's first permanent home, a multipurpose building. Located on the parish's permanent site, at 2501 South Post Road, the building was dedicated Feb. 16, 2014.
The parish has seen considerable turnover since its founding. When it started in 2002, the religious education program had 114 children registered. By 2012, the number had grown to 700. Some of the founding members have moved to other parts of the country, but this has been more than compensated by the influx of new parishioners. The total number of parishioners is currently estimated at 1,200 families.
La parroquia se estableció el 1 de julio del 2001, con el padre Paul E. Edwards como administrador. A principios de julio, el P. Edwards llevó a cabo reuniones para presentar a la nueva parroquia y dar su visión para el futuro. Más de 200 personas asistieron a las reuniones que se llevaron a cabo en inglés y español. Durante el mes de agosto, un grupo de 20 feligreses dedicaron más de 20 horas cada uno de servicio a la parroquia, preparando un envío a más de 14.000 hogares anunciando la llegada de la nueva iglesia. Las primeras Misas se celebraron en la Escuela Primaria Indian Trace el domingo 16 de septiembre de 2001 – tan sólo unos días después de los trágicos eventos de las Torres Gemelas. Más de 1.500 personas asistieron: 669 en la Misa de inglés y 889 en la Misa de español.
El domingo, 3 de marzo de 2002, tuvo lugar la primera celebración de la Fiesta St. Katharine Drexel en Markham Park. Esta consistió de una misa al aire libre, presidida por el entonces obispo auxiliar de Miami, Mons. Thomas Wenski, y seguida por un picnic parroquial con muchísima comida y juegos. Este evento se sigue llevando a cabo anualmente en torno al 3 de marzo, la fiesta de la patrona de la parroquia, St. Katharine Drexel.
Al acercarse el primer aniversario, el P. Edwards pidió a los que habían sido miembros desde el principio, que hicieran un compromiso total con la parroquia, para convertirse en "Miembros Fundadores". Los "miembros fundadores" se comprometen a la tarea de establecer una base sólida para esta comunidad parroquial y extender el reino de Dios en esta parte del mundo.
El domingo, 15 de septiembre de 2002, tras negociaciones para alquilar espacio en el 2700 Glades Circle, los feligreses se mudaron a su propio lugar de culto. Por desgracia, los planes para construir la nueva iglesia fueron interrumpidos por la enfermedad del P. Edwards, que fue diagnosticado, en agosto de 2005, con un tumor cerebral maligno. Este condujo a su muerte el 22 de abril de 2006.
Entre septiembre del 2005 y mayo del 2006, la parroquia tuvo dos administradores provisionales: el P. Andrzej (Andrew) Pietraszko, que previamente había sido asignado a St. Katharine Drexel como diácono, se hizo cargo hasta diciembre de 2005, cuando fue reemplazado por el P. Jorge Bello. A finales de mayo de 2006, el P. Pedro Corces fue nombrado administrador de la parroquia, convirtiéndose en párroco el 25 de marzo de 2007.
Fue reemplazado en abril del 2010 por el P. Enrique Delgado, quien trabajó muy duro con los feligreses para conseguir el dinero necesario para construir un edificio de usos múltiples, el primer hogar permanente de la parroquia. Localizado en el 2501 South Post Road, este edificio fue dedicado el 16 de febrero de 2014.
La parroquia ha visto importantes cambios desde su fundación. En 2002, el programa de educación religiosa comenzó con 114 niños registrados, un número que había crecido a 700 para el 2012. Algunos de los miembros fundadores se han trasladado a otras partes del país, pero esto ha estado más que compensado por la afluencia de nuevos feligreses, que actualmente suman unas 1.200 familias.
Pawas St. Katharine Drexel la te kòmanse 1 Jiyè 2001 ak Pè Paul E. Edwards kòm responsab. Menm mwa sa a li te òganize detwa reyinyon pou li pale de nouvo pawas la, e pou li di ki jan li ta renmen l nan lavni. Plis ke 200 moun te vin nan reyinyon sa yo ki te fèt an angle epi panyòl tou. Nan mwa Out la, 20 nan fidèl yo te deside pou yo chak ba legliz la 20 èdtan sèvis nan prepare plis ke 14,000 lèt voye ba moun nan kominote a pou anonse nouvo pawas la. Premye mès yo te fèt nan lekòl Indian Trace Elementary School la jou dimanch 16 Septanm 2001 – jis kèk jou apre trajedi World Trade Center a. Plis pase 1,500 moun te patisipe : 669 nan mès angle a plis 889 nan mès panyòl la.
Dimanch 3 Mas 2002, pawas la te selebre premye fèt St. Katharine Drexel li nan Markham Park. Yo te chante yon gran mès e se Evèk Oksilyè Miyami Thomas Wenski ki vini selebre l. Se yon mès ki te fèt 'au grand air'. Apre mès la, yo te òganize yon piknik ak jwèt ak anpil manje pou tout moun. Selebrasyon espesyal sa refèt chak ane jou Fèt St KATHARINE DREXEL ki tonbe nan alantou 3 Mas. Lò premye anivèsè Legliz la tap pwoche, Pè Edwards mande moun ki te la nan kòmansman pawas la si yo pa ta renmen vini Manm Fondatè, sa yo ta gen pou fè se jete yon fondasyon solid pou pawas la epi agrandi wayòm Bondye nan pati mond sa y ap viv ladan l lan.
Dimanch 15 Septanm 2002, apre antant te fèt pou lwe espas nan adrès 2700 Glades Circle, pawas la rantre nan kay pa li. Plan pou bati yon nouvo legliz te fin kanpe nan mwa Out 2005, lò yo vin dekouvri ke Pè Edwards te fè yon kansè nan tèt ki mennen lanmò li jou 22 Avril 2006 a.
De Septanm 2005 a Me 2006, pawas la gen 2 responsab tanporè: Pè Andrzej (Andrew) Pietraszko ki tap sèvi kòm dyak nan St. Katharine Drexel vini responsab tanporè jiskan Desanm 2005, lò yo nonmen Pè Jorge Bello nan pozisyon sa. Nan fen Me 2006, yo nonmen Pè Pedro M. Corces kòm responsab e li vin kire pawas la nan 25 Mas 2007.
Nan mwa Avril 2010, Pè Enrique Delgado ranplase Pè Corces. Pè Delgado fè anpil efò ak fidèl yo pou yo te ranmase lajan nesesè pou fonde yon anplasman pèmanan pou pawas la ak yon bilding ki kapab sèvi tout bezwen li e ki sitiye sou teren pawas la nan 2501 South Post Road. Yo te beni li jou 16 Fevriye 2014 la.
Depi pawas la kòmanse, se pa ni 2 ni 3 chanjman ki fèt. An 2002, pwogram edikasyon relijye a te kòmanse ak 114 timoun, An 2012, efektif la te gentan monte jiska 700. Anpil nan Manm Fondatè yo kite zòn lan men anpil nouvo pawasyen vini nan plas yo. Jodi a nou estime nou gen anviwon 1,200 nan pawas la.