Please click here to report any information you know or believe to be incorrect. We will verify with the church and update the website.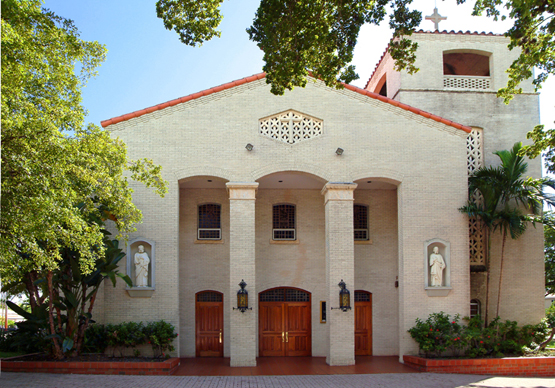 History
The Diocese of Saint Augustine announced in December 1938 the creation of a new parish Saints Peter and Paul in southwest Miami, then part of the downtown Gesu parish. Masses were celebrated in the Tower Theater before then pastor Father Robert Brennan began construction of the present "romantic" style church. Christmas Eve 1939, the "Moon Over Miami" cast its brilliant light on more than 1,000 parishioners gathered for the first time in the roofless church, completed and dedicated two months later in February 1940.
The quickly growing parish established an elementary school in 1941, and by 1942, inaugurated the first year of a high school, adding a new grade annually. A Cuban influx filled the schools, prompting two sessions to accommodate the growing number of students. The parish also began a special outreach to the Cuban refugees. It became part of the Miami Diocese in 1958 under then Bishop Coleman F. Carroll.
Before winning the election, Ronald Reagan visited the parish in 1980. The parish continues as a beacon of light, faith, and hope in its bicultural community.
En diciembre de 1938, la diócesis de St. Augustine anunció la creación de una nueva parroquia Sts. Peter and Paul en el suroeste de Miami, que en aquel tiempo pertenecía a la parroquia Gesu, al centro de Miami. Las misas se celebraban en el teatro Tower, antes de que el párroco, el Padre Robert Brennan, comenzara la construcción de la actual fachada de la iglesia al estilo romántico. En la Nochebuena de 1939, la "luna sobre Miami" proyectó su brillante luz sobre más de 1,000 feligreses reunidos por primera vez en la iglesia sin techo, que fue fi nalizada y dedicada dos meses después, en febrero de 1940.
La parroquia creció rápidamente, y estableció una escuela primario en 1941. En 1942 inauguró el primer año de una escuela superior, y le añadió un grado anualmente. La afl uencia de cubanos llenó la escuela, lo que ocasionó que se establecieran dos sesiones con el fi n de tener espacio sufi ciente para el creciente número de estudiantes. La parroquia también inició un apostolado especial de servicio a los refugiados cubanos. En 1958 pasó a ser parte de la diócesis de Miami, bajo la dirección del Obispo Coleman F. Carroll.
En 1980, Ronald Reagan visitó la parroquia, antes de ganar las elecciones. La parroquia continúa como un faro de luz, fe y esperanza para esta comunidad bicultural.
Nan mwa Desanm 1938, Dyosèz "St. Augustine anonse kreyasyon yon nouvo Pawas: Sen Pyè e Sen Pòl nan Sid Wès "Miami" ki fè pati Pawas "Gesu"nan "downtown."
Selebrasyon lanmès yo te kon fèt nan "Tower Theater" epi Pè Robert Brennan te kòmanse konstriksyon Legliz la ki fèt yon fason byen distenge. Nan ane 1939 lavèy nwèl lalin nan te klere nan "Miami" sou preske mil pawasyen ki te reyini premye fwa nan Legliz la ki pa te ko kouvri. De mwa apre nan mwa Fevriye 1940 Legliz la te fi ni e yo te inogire l. Pawas la te grandi anpil. Nan ane 1941 yo te gentan bati yon lekòl prime, epi nan ane 1942 yo te inogire yon lekòl segondè kote ke yo te ajoute yon grad (grad)an plis chak ane. Lè refi jye Kiben yo te kòmanse rantre Nan "Miami" lekòl yo te ranpli yo te oblije fè de (2) sesyon pou tout elèv te ka jwenn plas. Pwas la te kòmanse tou yon sèvis kominotè pou refi jye Kiben yo. Sèvis sa a te fè pati dyosèz "Miami" nan ane 1958 sou direksyon Evèk Coleman F. Carroll.
Nan ane 1980 anvan Ronald Reegan te gen eleksyon an, li te vin vizite Pawas la. Pawas sa a te tankou yon pilye ki pote limyè, lafwa, ak espwa nan kominote bileng sa a.