Please click here to report any information you know or believe to be incorrect. We will verify with the church and update the website.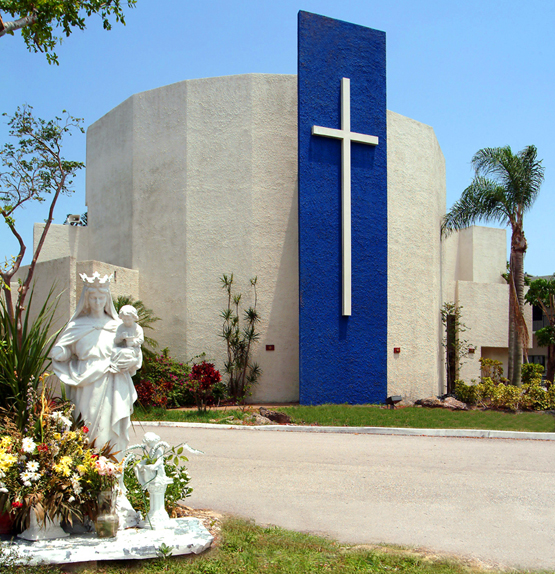 Founded on September 26, 1974
History
Founded in 1974 with Father John Vereb as the founding pastor, Our Lady Queen of Heaven served the Catholics in North Lauderdale. The first Mass the Vigil Sunday Mass was celebrated on October 19, 1974 at what is now the North Lauderdale Senior Citizens Center. The growing parish also celebrated Mass at a number of other sites, including local fire stations, schools and storefronts. Father Vereb served the growing parish until he became ill and in 1975, Father John McGrath became pastor.
Parishioners constructed a church, dedicated in 1979 and a parish hall, dedicated in 1982. From its inception, the parish gained a reputation for its warmth and care. Volunteers organize and staff dances, parties, dinner, flea markets, fundraisers and other activities that support its outreach ministries, including religious education classes.
A 1987 capital campaign funded a larger parish center and a small chapel for perpetual adoration, dedicated in 1988. The parish continues to serve the community and each other.
Fundada en 1974 con el Padre John Verb como su párroco, Our Lady Queen of Heaven sirve a los católicos de North Lauderdale. La primera misa de la Vigilia dominical fue celebrada el 19 de octubre de 1974 en lo que hoy es el North Lauderdale Senior Citizens Center. La creciente parroquia también celebraba la misa en otros lugares, incluyendo los parques de bomberos del área, en escuelas y en centros comerciales. El Padre Vereb sirvió en la parroquia hasta que enfermó, y en 1975, el Padre John McGrath se convirtió en párroco.
Los feligreses construyeron una iglesia, que fue dedicada en 1979, y un salón parroquial, dedicado en 1982. Desde sus principios, la parroquia se distinguió por su cordialidad y sus atenciones. Los voluntarios organizan bailes, fiestas, cenas, ventas de artículos usados, actividades para la recaudación de fondos, y otras actividades para el apoyo de sus apostolados, entre los que se encuentran las clases de educación religiosa.
En 1987, una campaña para la recaudación de fondos ayudó a sufragar los gastos para la construcción de un centro parroquial más amplio y una pequeña capilla para la adoración perpetua, dedicados en 1988. La parroquia continúa su servicio a la comunidad, y sus miembros sirven unos a otros.
Fonde nan lane 1974 sou direksyon Pè Verab kòm kire fondatè, pawas Notre Dame Rèn Syèl la desèvi katolik nan zòn North Lauderdale. Premye mès la ki te yon mès veye te selebre jou 19 Oktòb 1974 nan edifi s ki konnyè an se Senior Citizens Center nan North Lauderdale. Pawas la ki tap grandi, te selebre mès nan lòt lokalite tankou Stasyon Sekou pou Insandi, nan lekòl ak nan sal alwe tou pre yo. Pè Vereb te sèvi kòm kire jouktan li te tonbe malad, konsa nan lane 1975, Pè John McGrath te ranplase l kòm kire.
Pawasyen yo te mete ansanm pou konstwi yon legliz ki te inogire nan lane 1979, epi yon sal pawasyal ki te inogire nan lane 1982. Depi lè l te kòmanse, pawas la toujou gen bòn repitasyon kòm kote ou te toujou twouve yon akèy djòl loulouz. Fidèl ki volontye òganize dans, fèt, dine, ti mache, ak aktivite pou ranmase fon pou sipòte apostola pawas la, ansanm ak progran edikasyon religyez.
Nan lane 1987 yon gwo kanpay pou ranmase te lanse pou te bati yon pi gwo yon sal pawasyal ak yon chapèl pou adorasyon pèpetyèl, ki te inogire nan lane 1988. Pawas la kontinye sèvi kominote nan youn ak lòt.