Please click here to report any information you know or believe to be incorrect. We will verify with the church and update the website.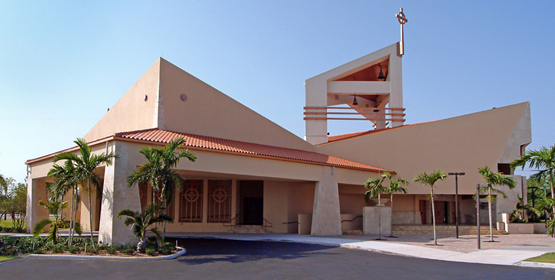 History
Established in 1985 when founding pastor Edmond Prendergast began inviting families to join the newly-created "parish family," Saint Bonaventure grew rapidly. The first Mass was celebrated at the Flamingo Elementary School with approximately 150 people attending a Saturday evening service and another 100 at a service on the following Sunday morning. Parishioners fostered community life through an array of social and fund-raising events such as picnics, spaghetti dinners and garage sales. They also formed groups for spiritual enrichment such as Eucharistic ministers, ushers, altar servers and lectors and founded a number of outreach ministries such as Saint Vincent de Paul Society, Legion of Mary, and Respect Life, among others. Parishioners established religious education classes and in 1987.
The parish added a ministry center to house religious education classes and pre-school programs that have evolved into a full-fledged school with pre-kindergarten through eighth grade. Mass is celebrated in Spanish and English, and a new church was dedicated in March 2004.
Parishioners continue serving the needy by operating a food and clothing pantry, visiting the imprisoned, sick, homebound, and elderly.
Establecida en 1985, St. Bonaventure creció rápidamente cuando su párroco fundador, el Padre Edmond Prendergast, comenzó a invitar a las familias a unirse a la recién creada "familia parroquial". La primera misa fue celebrada en la escuela primaria Flamingo, con la asistencia de unas 150 personas durante la Vigilia, y otras 100 durante la misa en la mañana del domingo siguiente. Los feligreses cultivaron la vida comunitaria a través de actividades sociales y de recaudación de fondos, como picnics, cenas de espagueti, y ventas de artículos usados. También formaron grupos para el enriquecimiento espiritual, como los ministros extraordinarios de la Sagrada Comunión, los ujieres, monaguillos y lectores, y fundaron apostolados como la Sociedad de San Vicente de Paúl, la Legión de María, y el Respeto a la Vida, entre otros. Los feligreses establecieron clases de educación religiosa en 1987.
La parroquia añadió un centro de apostolado para las clases de educación religiosa y los programas preescolares, que evolucionaron hasta convertirse en una escuela completa para niños de edad preescolar hasta el octavo grado. La misa se celebra en inglés y español, y una nueva iglesia fue dedicada en marzo de 2004.
Los feligreses continúan su servicio a los necesitados con una despensa de alimentos y ropa, y visitas a los presos, los enfermos y los ancianos.
Etabli nan lane 1985, pawas Sen Bonaventure kòmanse ak Pè Edmond Prendergast te kòmanse envite kèk fanmiy nan zòn nan pou vin jwen avè l. Pawas la te grandi san prantan. Premye mès yo te selebre nan lekòl primè Flamingo Elementary School ak 150 moun konsa nan sèvis vèy samdi swa, epi yon lòt moun konsa dimanch maten apre. Pawasyen te jwenn ansanm pou kreye yon lespri lavi kominotè nan òganize plizyè aktivite sosyal tankou ti kèmès, dine and vant ozanchè. Yo te fòm eplizyè lòt gwoup apostola tou ki te anrichi espirityèlman tankou ministè Ekaristik, ministè akèy, akolit, ak lektè. Te gen yon sosyete Saint Vincent de Paul ki te fòme, Lejyon Mari, gwoup Respè Lavi elatriye. Apre sa, nan lane 1987 klas pou edikasyon religyez te kòmanse.
Pawas la te ajoute yon sant apostola pou mete depatman katechis la ak pwogwam preskolè a ki fi n pran chè konnyè genyen klas jadendanfan jis rive nan wuityèm ane. Jounen jodiya mès yo selebre an anglè ak èspanyòl nan nouvo legliz ki fenk inigore nan lane 2004.
Pawasyen yo kontinye ap sèvi sila yo ki nan bezwen nan opere pwojè pou bay manje ak rad, nan vizite sila yo ki an prizon, malad yo, pansyonè ak granmoun yo.