Please click here to report any information you know or believe to be incorrect. We will verify with the church and update the website.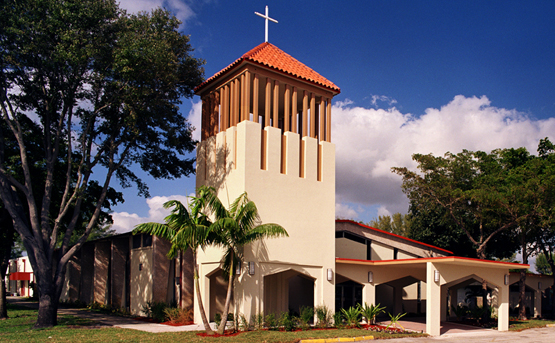 Founded September 4, 1962
History
In the days when development in the area hardly extended west of University Drive, Saint Bartholomew established in 1962 served Miramar's Catholics with Monsignor Noel Fogarty as the first pastor. Mass was first celebrated in Miramar's firehouse and enthusiastic parishioners formed groups, clubs, and outreach ministries before the 1964 groundbreakings for school and church buildings. The Sisters of Charity of the Sacred Heart of Jesus who came as refugees from Cuba oversaw the school for twenty-three years until 1988.
When completed, the school building functioned as a gathering place for religious education classes and as a parochial school. Today, the school offers pre-kindergarten to eighth grades and continues to be a community space for evening meetings, including A.A., N.A and scouting activities. The convent vacated by the Sisters remains a busy place, the site for gatherings, retreats, and parish meetings.
Parishioners support numerous ministries, including Respect Life, Saint Vincent de Paul Society, Mommy and Me, Legion of Mary and Knights of Columbus, among others. They serve the elderly, sick, grieving, the Spanish and Haitian communities. Spiritual enrichment programs nurture children and adults.
St. Bartholomew, establecida en 1962, servía a los católicos de la ciudad en los días en que el desarrollo de la zona de Miramar apenas se extendía hacia el oeste de University Drive. Bajo la dirección de monseñor Noel Fogarty, su primer párroco, la misa era celebrada en el parque de bomberos, y un entusiasta grupo de feligreses estableció grupos, clubes y apostolados antes de que se colocara la primera piedra para los edifi cios de la escuela y de la iglesia en 1964. Las Hermanas de la Caridad del Sagrado Corazón de Jesús, quienes llegaron como refugiadas desde Cuba, supervisaron la escuela durante 23 años, hasta 1988.
Cuando se fi nalizó, el edifi cio de la escuela servía como punto de reunión para las clases de educación religiosa y la escuela parroquial. En la actualidad, la escuela ofrece clases para niños desde edad preescolar hasta el octavo grado, y continúa como un lugar para reuniones de diversos grupos durante las noches, entre ellos Alcohólicos Anónimos, Narcóticos Anónimos, y actividades de los Niños Escuchas. El convento, que fue desalojado por las religiosas, permanece como un lugar muy concurrido en el que se realizan encuentros, retiros y reuniones parroquiales.
Los feligreses apoyan una gran cantidad de apostolados, como el Respeto a la Vida, San Vicente de Paúl, Mommyand- Me (Mamá-y-Yo), la Legión de María, y los Caballeros de Colón. Sirven a los ancianos, a los enfermos, a las personas que se encuentran en luto, y a las comunidades hispana y haitiana, además de apoyar los programas de enriquecimiento espiritual para los niños y los adultos.
Sen Barthélémy, ki te etabli nan lane 1962, te sèvi katolik nan Miramar sou direksyon Mons. Noel Fogarty kòm premye kire. Lè sa a, zòn lès sou inivèsite te apenn kòmanse devlope. Mès yo te selebre nan kay sekou insandi an ak yon gwoup fi dèl ki te byen eksite pou kòmanse fòme gwoup apostola menm avan premye wòch batisman legliz ak lekòl la te poze nan lane 1967. Se te Sè Lacharite Kè Sakre Jezi yo ki te sòti nan peyi kiba ki t ap gere lekòl la jouk lane 1988.
Lè l te fi n fèt, edifi s lekòl la te sèvi tou pou lansèyman katechis. Pou konnyè lekòl la gen klas kòmanse nan jadendanfan pou rive nan wuityèm, epi kontinye sèvi kòm espas kote gwoup pawas la reyini lèswa. Lòt gwoup tankou Alkoolik Anonima, Narkotik Anonima, ak Skout itilize l tou. Kouvan an, ki te bati pou sè yo, sèvi tou pou reyinyon gwoup, retrèt, ak reyinyon pawasyal. Fidèl yo sipòte divès kalite apostola tankou sosyete Saint Vincent de Paul, Respè Lavi, Mommy-and-Me, Lejion Mari, Knights of Coumbus elatriye ki sèvi sil ayo ki malad, granmoun yo, sila yo ki nan bezwen nan kominote èspanyòl ak nan kominote Ayisyèn nan. Genyen you pwogram anrichisman èspirityèl ki ede timoun tankou adilt nouri lavi lafwa yo.