Please click here to report any information you know or believe to be incorrect. We will verify with the church and update the website.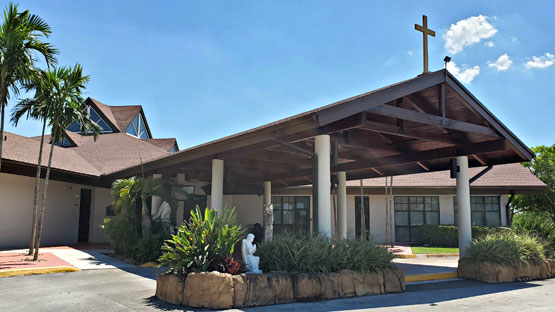 History
Founded in 1995 with Father Michael J. Eivers as the first pastor, Saint Edward parish comprises the entire city of Pembroke Pines west of Interstate 75, one of the fastest growing areas of Florida. The parish celebrated its first Mass at a cinema with 50 worshipers in attendance, but within six months, outgrew the space. With more than 400 worshipers, the parish moved Mass celebrations to Chapel Trail Elementary School. Construction of a new church building a building that seats 1100 and also contains offices, classrooms, and a Blessed Sacrament Chapel began in 1996 on a 13-acre plot on Pines Boulevard and was dedicated in 2000.
The parish has grown to more than 3,000 families with CCD classes teaching more than 2,000 children. In addition to operating a gift shop and participating in an array of outreach and ministries, parishioners have implemented a system of cell groups prayer groups that foster spiritual growth and evangelization, allowing members to give and receive support, identify new leaders who are then inspired to begin new cell groups with different goals.
La parroquia St. Edward, fundada en 1995, abarca la ciudad completa de Pembroke Pines al oeste de la carretera interestatal 75, una de las áreas de más rápido crecimiento en la Florida. Su primer párroco, el Padre Michael J. Eivers, celebró la primera misa de la parroquia en un cine, con la asistencia de 50 feligreses; seis meses después, el espacio quedaba pequeño. La celebración de la misa, a la cual asistían más de 400 personas, fue trasladada a la escuela primaria Chapel Trail. En 1996, se inició la construcción de un nuevo edifi cio para la iglesia en un terreno de 13 acres localizado en Pines Boulevard. La estructura, con capacidad para 1,100 personas, y la cual también cuenta con ofi cinas, salones para clases, y la Capilla del Santísimo Sacramento, fue dedicada en el año 2000.
St. Edward, que lleva más de una década de establecida, ya cuenta con más de 3,000 familias, y tiene más de 2,000 niños matriculados en sus clases de educación religiosa. Además de una tienda de regalos y de una diversidad de apostolados y servicios, los feligreses han establecido un sistema de células—o grupos de oración que promueven el crecimiento espiritual y la evangelización. Esto permite a los miembros de la comunidad dar y recibir apoyo, e identifi car nuevos líderes que se sientan inspirados para iniciar nuevas células.
Fonde nan lane 1995 avèk Pè Michael J. Eivers kòm premye kire, pawas Sen Edward kouvri tout vil Pembroke Pines ki sitiye a lwès wout I-75, youn nan zòn ki devlope pi vit nan eta Florid la. Pawas la te fè premye Mès li nan yon sinema ak 50 fi dèl, men nan 6 mwa konsa, lokal la te gentan vin twò piti. Avèk plis pase 400 fi dèl, pawas la t al fè selebrasyon Lamès yo nan lekòl primè Chapel Trail. An 1996 yo te kòmanse bati yon legliz tou nèf - nouvo lokal sa a ka pran 1100 moun e li genyen ladan l plizyè biwo, lekòl, ak yon chapèl pou adorasyon Sen Sakreman – Lokal sa a bati sou 13 karo tè sou Pines Boulevard e li te inogire nan lane 2000.
Pawas sèvi plis pase 3000 fanmiy e li gen klas katechis pou fòme plis pase 2000 timoun. Anplis pawasyen yo ap opere yon boutik ki vann atik relijye e patisipe nan tout kalite konbit kominotè ak ministè, yo mete sou pye yon bann ti gwoup priyè – se ti gwoup priyè sila yo ki ap ede lavi espirityèl ak evanjelizasyon an grandi, se sa ki fasilite manm pou yo bay e resevwa èd, idantifye nouvo manm ki kapab pran reskonsablite pou ouvri lòt ti gwoup priyè avèk bi diferan.