Please click here to report any information you know or believe to be incorrect. We will verify with the church and update the website.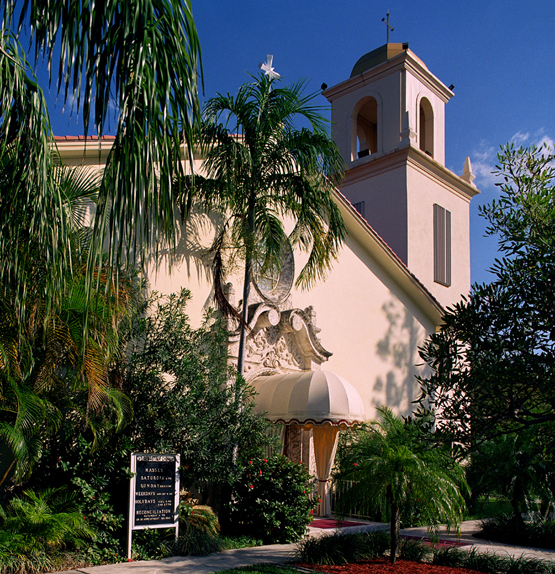 Founded on March 12, 1959
History
Located in the Harbor Inlet neighborhood of Fort Lauderdale, Saint Sebastian was established in 1959 and served Catholics close to the numerous beach resorts. In the Spanish-style church, which seats 600 people, the cross and tabernacle that adorn the sanctuary were imported from Ireland, and priests from Saint Anthony served parishioners who quickly established religious education classes that eventually included approximately 100 school age children.
Under the leadership of Father Cyril Hudak, who was appointed pastor in 1988, the church underwent extensive renovations and a bell tower was added. Then when Father Patrick McDonnell became pastor in 1995, parishioners added a parish center that contained a community hall, office space, and the Chapel of the Divine Healer for daily Eucharistic Adoration. The Blessed Sacrament continues to be exposed daily from the 8 a.m. Mass to the 8 p.m Mass on weekdays. The parish also established spiritual enrichment programs for adults, such as renew.
St. Sebastian, localizada en el vecindario de Harbor Inlet, en Fort Lauderdale, fue establecida en 1959 y servía a los católicos que residían cerca de las innumerables residencias de playa. La iglesia, con fachada española y capacidad para 600 personas, tiene una cruz y un tabernáculo que fueron importados desde Irlanda. Los sacerdotes de la iglesia de St. Anthony atendieron a los feligreses, que establecieron de inmediato las clases de educación religiosa, las cuales eventualmente servirían a unos 100 niños en edad escolar. Bajo la dirección del Padre Cyril Hudak, nombrado párroco en 1988, la iglesia se sometió a extensas renovaciones, entre ellas la incorporación de un campanario. En 1995, cuando el Padre Patrick McDonnell se convirtió en su párroco, los feligreses añadieron un centro parroquial con un salón para la comunidad, ofi cinas y la Capilla del Divino Sanador para la adoración del Santísimo Sacramento, expuesto de lunes a viernes desde la misa de las 8:00 AM hasta la misa de las 8:00 PM. La parroquia también ha establecido programas de enriquecimiento espiritual para adultos, como RENEW.
St. Sebastien lokalize sou bò lanmè a nan Fort Lauderdale. Li te fonde nan ane 1959 e li sèvi tout katolik ki rete nan zòn bò lanmè a. Legliz la te bati menm jan ak yon Legliz Espayòl li te gen plas pou 600 moun. Kwa a ak Tabènak ki dekore sanktiyè a te soti nan peyi Ilandè.Pè ki soti nan "St. Anthony" sèvi pawasyen ki mete sou pye byen vit klas pou edikasyon relijye ki gen apeprè 100 timoun ki nan laj pou yo al lekòl.
Sou direksyon Pè Cyril Hudak ki te nonmen kòm kire nan pawas la nan ane 1988 anpil renovasyon te fèt epi yon klòch byen wo te enstale nan Legliz la. Nan ane 1995 Pè Patrick McDonnell te vini nan pawas la kòm kire. Pawasyen yo te ajoute yon sant pawasyal ki te gen yon gran espas pou travay kominote a, yon espas pou biwo, ak yon Chapèl Lagerizon pou Adorasyon Sen Sakreman chak jou. Sen Sakreman te kontinye ap ekspoze chak jou nan Mès ki fèt a 8:00 a.m. pou rive nan Mès ki fèt a 8:00 p.m. nan jou nan semèn yo. Pawas la te etabli yon pwogram anrichisman espirityèl pou granmoun yo ki se yon pwogram renouvèlman.