Please click here to report any information you know or believe to be incorrect. We will verify with the church and update the website.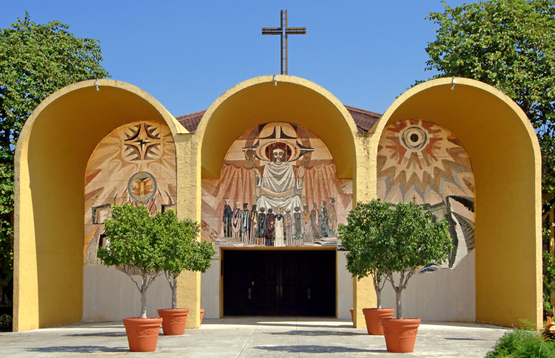 History
The presence of Spanish Dominican friars in Florida stretches back to the mid 1500s; several friars from Spain eagerly responded to Bishop Coleman Carroll's invitation to serve the then newly-established Miami Archdiocese. From its inception in 1962, Spanish friars staffed Saint Dominic parish where Mass was first celebrated at the Henry M. Flagler school auditorium, at the Fairlawn Elementary School, and at a nearby Ukrainian church. Parishioners also formed religious education classes. The former National Children's Cardiac Home a building slated for demolition was purchased and renovated into a rectory, religious education classrooms and a worship space, and dedicated in 1963.
The parish continued to grow, and parishioner already active in service outreach ministries embraced changes ushered in by Vatican II and became active in liturgical ministries. Parishioners launched a capital campaign in 1979 to build a larger church, which was completed and dedicated in 1981.
Dominican friars from the newly formed Southern Dominican Province of the United States took over responsibility for the parish from the Spanish Dominicans in 1980. Their commitment to the parish remains strong.
La presencia de los frailes dominicos españoles en la Florida se remonta hasta mediados de la década de 1950, cuando varios frailes respondieron desde España con gran entusiasmo a la invitación del Obispo Coleman Carroll para servir en la recién establecida arquidiócesis de Miami. Desde sus inicios en 1962, los frailes españoles asumieron la dirección de la parroquia St. Dominic, y la primera misa fue celebrada en el auditorio de la escuela Henry M. Flagler, en la escuela primaria Fairlawn, y en una iglesia ucraniana vecina. Los feligreses también establecieron clases de educación religiosa. El edifi cio del antiguo National Children's Cardiac Home iba a ser demolido cuando la parroquia lo compró y lo renovó hasta convertirlo en una rectoría, en salones para la educación religiosa, y en un templo para el culto, dedicado en 1963.
El crecimiento de la parroquia continuó, y los feligreses ya activos en el servicio a los necesitados a través de los apostolados acogieron los cambios presentados por el Vaticano II, y se involucraron en los apostolados litúrgicos. En 1979, la comunidad lanzó una campaña para la recaudación de fondos con el fi n de construir una iglesia más amplia, que fue fi nalizada y dedicada en 1981. Los frailes de la nueva Provincia Dominica del Sur de los Estados Unidos asumieron la responsabilidad por la parroquia de manos de los dominicos españoles en 1980. Su compromiso con su parroquia continúa firme.
Prezans frè Dominiken Panyòl yo nan Florid la te vin pi plis nan lane 1950 yo ; anpil nan frè te soti an Espagne (Espay) pou reponn san pèdi tan a envitasyon Evèk Coleman Carroll la pou yo vin sèvi nan Dyosèz Miami an ki te fèk bati. Depi lè li te kòmanse nan lane 1962, se te frè panyòl yo ki te konn travay nan pawas Sen Dominik lan kote Lamès te konn selebre anndan oditoryòm Henry M. Flagler a, nan Lekòl primè Fairlawn, ak nan yon legliz Ikranyen ki te tou pre a. Pawasyen to mete sou pye klas katechis tou. Yo te achte ansyen lokal National Children's Cardiac Home nan yon kote yo t apral demoli yo te repare l, epi se la yo te fè presbitè a ansanm ak klas katechis yo ak yon kote pou fè Lamès; li te inogire nan lane 1963.
Pawas la te kontinye devlope e pawasyen ki te deja ap bay sèvis nan ministè konbit kominotè te aksepte tout chanjman Vatikan II te pote, e yo te vin trè aktif nan misnistè litijik yo. Pawasyen yo te lanse yon gwo kanpay nan lane 1979 pou bati yon pi gwo legliz. Legliz sa a te fi n bati e li te inogire an 1981.
Frè Dominiken yo ki te soti nan nouvo Provens Dominiken ki nan Sid Etazini an te pran reskonsablite pawas la nan men Dominiken Panyòl yo nan lane 1980. Yo te rete byen fi dèl nan pwomès yo te fè pou sèvi pawas la.