Please click here to report any information you know or believe to be incorrect. We will verify with the church and update the website.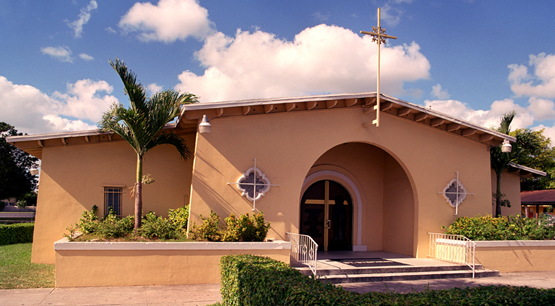 Founded September 29, 1956
History
In the early 1950s, a small number of Catholics populated Hollywood, and Little Flower served all of them. Catholics in southern Broward County wanted their own church and petitioned the Little Flower priests to celebrate a Mass in their area, attracting 250 people. At the service, held in an unfinished community center, orange crates served as the altar, cement blocks and planks as pews, and a dinner bell announced the Consecration. The area's faithful planted the seeds for Saint Stephen, Little Flower's mission.
Bishop Joseph P. Hurley dedicated a church in 1956, the same year the mission attained parish status. Parishioners immediately established a school with grades one to six, staffed by Sisters of Saint Joseph. The school now serves students in pre kindergarten through eighth grade. The Oblates of Mary Immaculate assumed the pastoral administration in 1968 and continue to serve. The parish welcomed Spanish immigrants in the mid-1970s and established other faith communities: Annunciation, Saint Bartholomew, Saint Bernadette and Saint Boniface.
Parishioners support Saint Vincent de Paul Society and a Spanish Legion of Mary. Volunteers staff a gift shop.
A principios de la década de 1950, un pequeño número de católicos residía en Hollywood, atendido por la parroquia de Little Flower. Los católicos al sur del condado de Broward deseaban su propia iglesia, y pidieron a los sacerdotes de Little Flower que celebraran la misa en su área, lo que atrajo la asistencia de 250 personas. Durante la celebración, cajas color naranja sirvieron como altar, bloques de cemento como banquillos, y una campana utilizada a la hora de cenar anunciaba la consagración. Los feligreses del área sembraron las semillas para St. Stephen, la misión de Little Flower.
El Obispo Joseph P. Hurley dedicó una iglesia en 1956, el mismo año en que la misión fue declarada parroquia. Inmediatamente, los feligreses se dieron a la tarea de establecer una escuela para niños del primero al sexto grado, atendida por las Hermanas de San José. Desde 1968, los Oblatos de María Inmaculada han asumido la administración pastoral. La parroquia ha acogido a inmigrantes hispanos desde mediados de la década de 1970, y establecieron otras comunidades de fe: Annunciation, St. Bartholomew, St. Bernadette y St. Boniface.
Los feligreses apoyan a la Sociedad de San Vicente de Paúl y su comunidad hispana estableció una Legión de María. La parroquia tiene una tienda de regalos atendida por voluntarios.
Nan kòmansman ane 1950 yo, te gen yon ti kantite Katolik ki te abite nan vil Hollywood. Pawas Little Flower te konn sèvi yo. Katolik ki te nan Sid "Broward County" te mande pou yo te genyen pwòp Legliz pa yo e yo te fè yon petisyon pou yo te mande Pè "Little Flower" a pou selebre yon Mès nan zòn lakay yo ki gen apeprè 250 moun. Lanmès la te selebre nan yon sant kominotè ki te nan konstriksyon. Yon kès koulè zoranj te sèvi pou Lotèl la, blòk ak planch te sèvi chèz pou moun yo chita epi you klòch ki sèvi pou anonse lè pou moun manje te sèvi pou Konsekrasyon. Kwayan nan zòn nan te plante semans pou konstriksyon St. Stephen kòm Misyon Pawas Little Flower.
Nan ane 1956, Evèk Joseph P. Hurley te dedikase yon Legliz. Epi nan menm ane a misyon an te vin tounen yon pawas. Menm moman an Pawasyen yo te louvri yon lekòl ki te kòmanse ak klas premye ane jouk nan klas sizyèm ane ki te gen mè St. Joseph yo an tèt li. Lekòl la ap sèvi kounye a elèv ki fenk ap debite jiska klas Wuityèm. Nan ane 1968 Mè Obla Mari Imakile yo te dirije administrasyon pastoral la e yo kontinye ap fè li. Pawas la te akeyi imigran espanyòl yo nan mitan ane 1970 yo epi yo te fonde tou kèk lòt kominote tankou: Annunciation, St. Bartholomew, St. Bernadette, ak St. Boniface."
Pawasyen yo sipòte St. Vincent de Paul Society, ak Legion de Marie. Gen yon ti boutik pou yo vann kado ak atik relijyez.