Please click here to report any information you know or believe to be incorrect. We will verify with the church and update the website.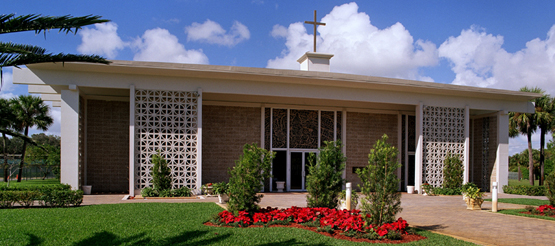 Founded November 10, 1960
History
Nestled just north of Fort Lauderdale/Hollywood International Airport and south of downtown Fort Lauderdale, Saint Jerome parish was founded on November 10, 1960 when then Bishop Coleman F. Carroll instructed Father Lamar Genovar of Our Lady Queen of Martyrs to establish a mission. Mass was fi rst celebrated at Rogers Junior High School.
Father Raymond Scully served as its fi rst pastor, and he was charged with building a church and opening a school. Founding parishioners became involved in a capital campaign that raised more than $80,000 of pledges over a three-year period. Enrollment for a school took place even before ground breaking for a building. The Sisters of Saint Philip Neri, newly arrived exiles from Cuba, accepted the task of staffi ng the school, which now offers prekindergarten 3 through eighth grade. With the school in progress, parishioners constructed a church, dedicated in 1961.
Hurricane Wilma in 2005 caused the parish more than $3 million. Although the parish is still rebuilding, parishioners continue outreach ministries, feeding the homeless, supporting Respect Life, and other efforts. An annual carnival funds both church and school programs.
Localizada justo al norte del aeropuerto internacional de Fort Lauderdale/Hollywood, y al sur de la ciudad de Fort Lauderdale, la parroquia de St. Jerome fue establecida el 10 de noviembre de 1960, cuando el Obispo Coleman F. Carroll dio instrucciones al Padre Lamar Genovar, de Our Lady Queen of Martyrs, para que estableciera una misión. La primera misa fue celebrada en la escuela intermedia Rogers.
El Padre Raymond Scully fue su primer párroco, y se encargó de construir una iglesia y abrir una escuela. Los primeros feligreses participaron en una campaña para la recaudación de fondos, con la que obtuvieron más de $80,000 en promesas durante un período de tres años. La matrícula para la escuela se realizó antes de que se colocara la primera piedra para la construcción del plantel. Las Hermanas de San Felipe Neri, recién llegadas de Cuba, aceptaron encargarse de la escuela, que en la actualidad ofrece clases a estudiantes desde la edad preescolar hasta el octavo grado. Cuando ya la escuela se encontraba en funciones, los feligreses se dieron a la tarea de construir una iglesia, dedicada en 1961.
En 2005, el huracán Wilma causó más de $3 millones en daños a la parroquia. Aunque la parroquia aún se encuentra en la fase de reconstrucción, los feligreses continúan dedicados a sus apostolados, entre ellos alimentar a los desamparados y el Respeto a la Vida. Su festival anual ayuda a recaudar fondos para los programas de la iglesia y de la escuela.
Pawas Sen Jerome chita kòl nan nò Fort Lauderdale / nan zòn Aeywopò Entanasyonal Hollywood ak nan sid lavil Fort Lauderdale elite fonde nan jou kite 10 novanm 1960 lè Evèk Coleman F. Carroll te mande pè Lamar Genovar ki nan Legliz Our Lady Queen of Martyrs (Notredam dè Mati) pou te kreye yon misyon. Lamès te selebre pou premye fwa nan lekòl segondè Rogers Junior High.
Pè Raymon Scully te sèvi kòm premye kire e li te an reskonsab pou bati yon legliz epi louvri yon lekòl. Pawasyen ki te fonde lekòl la te enplike nan yon kanpay ranmase lajan ki rive rasanble plis pase $80,000 pandan 3 lane. Enskripsyon te kòmanse menm avan yo te kòmanse bati lekol la. Mè St Philip Neri yo, ki te fenk egzile soti nan peyi Kiba te aksepte reskonsab lekòl la, ki kounye ya ofri klas matènèl pou rive nan 8e ane. Pandan pwojè lekòl la ap pwogrese, pawasyen yo te bati legliz la, ki te inogire nan lane 1961.
Siklòn Wilma nan lane 2005 te koute pawas la plis pase $3,000,000. Kwak pawas la kontinye ap rekonstwi, pawasyen yo kontinye konbit kominotè yo ak ministè yo, nan bay moun ki san kay yo manje, sipòte respè pou lavi ak yon latriye lòt jefò. Legliz la ak pwogram pou lekòl la te jwenn lajan gras a yon kanaval yo òganize chak ane.