Please click here to report any information you know or believe to be incorrect. We will verify with the church and update the website.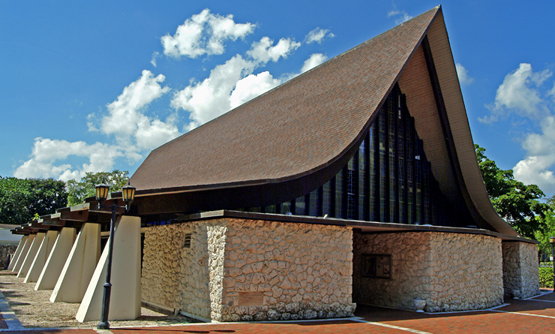 History
Founded in 1959, St. Hugh parish has served the multicultural and multiethnic communities of Coconut Grove. The parish's fi rst Mass was celebrated at Playhouse Theater and later at Coconut Grove Elementary School. In 1960, Father Charles Ward built the church which was dedicated by then Bishop Coleman Carroll. St. Augustine Mission School, operated under the auspices of Holy Redeemer parish, became St. Hugh School, the fi rst integrated school in the diocese.
The parish has been blessed with dedicated pastors: Father George Bucko, Father Anthony Navarrete, Msgr. John Glorie, Father John Vaughan and Father George Garcia. With the generous help of parishioners and school parents, Msgr. Glorie built a new school next to the church in 1981, which is also used for religious education.
The parish has ministered with care to patients at Coral Gables Hospital. The Grove Outreach program started by Father Vaughan has served needy families in the area, offering free food, medical and legal care. The community has ministered to many young couples who have chosen to celebrate their wedding in the beautiful church. St. Hugh's parish community joyfully thanks the Lord for the many blessings it has received and generously shared with others throughout these years.
La parroquia de St. Hugh, fundada en 1959, sirve a la comunidad multicultural de Coconut Grove. La primera misa fue celebrada en el Playhouse Theater y más tarde en la escuela primaria de Coconut Grove. En 1960, el Padre Charles Ward construyó el templo que fue dedicado por el Obispo Coleman Carroll. La escuela misión de St. Augustine, dirigida por la parroquia Holy Redeemer, se convirtió en la escuela de St. Hugh.
La comunidad ha sido bendecida por dedicados párrocos: George Bucko, Anthony Navarrete, John Glorie, John Vaughan y George García. En 1981, gracias a la generosidad de los feligreses y los padres de la escuela, Monseñor Glorie construyó una nueva escuela próxima a la iglesia, que también se utiliza para las clases de educación religiosa.
La parroquia ha servido con gran atención a los pacientes del hospital Coral Gables. El programa Grove Outreach, iniciado por el Padre Vaughan, ha ofrecido alimentos y asistencia médica y legal gratuita a las familias necesitadas del área. La comunidad ha realizado su apostolado con muchas parejas que han escogido esta hermosa iglesia para celebrar su boda. La parroquia de St. Hugh agradece con alegría al Señor las múltiples bendiciones que ha recibido y ha compartido generosamente con otras personas y comunidades a través de todos estos años.
Fonde nan lane 1959 Pawas Sen Hugh te tabli pou sèvi anpil kilti ak anpil kominote nan Coconut Grove. Premye mès pawas la te chante nan "Playhouse Theater" epi apre sa nan lekòl elemantè Coconut Grove. Apre sa, pandan pè Charles Ward te la kòm premye kire pawas la, lajan ki te ranmase te pèmèt konstriksyon lokal ke yo gen kounye a, ki te inogire nan lane 1960 ak Mons. Coleman Carroll.
Lekòl misyonè St. Augustine, sou lobedyans pawas Holy Redeemer (Sen Sovè), vin tounen lekòl segondè Sen Hugh, youn nan premye lekòl mix ki te premye entere nan dyoszèz la.
Pawas te toujou beni ak prezans kire ki angaje tout bon: Pgeorges Bucko, Pè Anthony Navarrete, Msgr. John Glorie, Pè John Vaughan ak PGeorge Garcia. Ansanm ak konkou jenerosite anpil pawasyen ak paran timoun nnan lèkòl la, Msgr. Glorie te bati yon nouvo lekòl akote legliz la nan lane 1981, ki sèvi tou pou edikasyon religyez.
Pawas la fè apostola ki pran swen moun ki malad yo nan lopital Coral Gables. Pwogram apostola Grove Outreach Pè Vaughan te kòmanse sèvi fanmiy ki gen bezwen yo nan zòn nan, ofri yo manje, swen medikal ak swen legal. Kominote a fè apostola ak anpil jèn koup ki chwazii pou selebre maryaj yo nan bèl legliz la. Se ak anpil kè kontan Sen Hugh ap remèsye granmèt la pou tout kalite benediksyon li resevwa nan men l epi gen chans pataje ak lòt pandan lèzane.