Please click here to report any information you know or believe to be incorrect. We will verify with the church and update the website.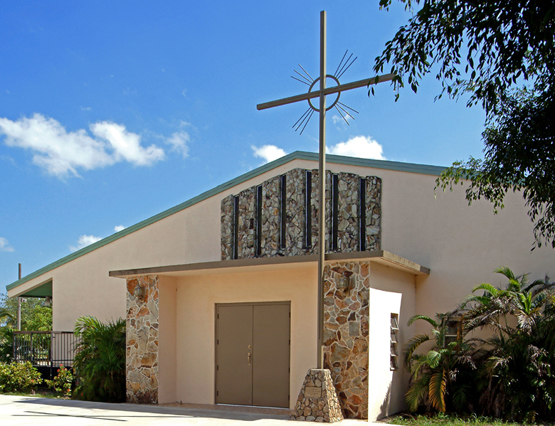 CONTACT INFO
History
The first Mass at Saint Monica's parish was celebrated in May 1959 at the Myrtle Grove Elementary School. By September, Sunday Masses had moved to the Carol City Junior High School, and daily Masses, to a tiny cottage, the Little White House, located on church property, before moving into what is now the present rectory. Constructed and dedicated in 1961, the present church had originally been intended as a combination hall and cafeteria.
Staffed by Sisters of the Apostolate of the Sacred Heart, among the first sisters from Cuba, a parish school opened in 1962 with 240 students in K though third grade and expanded annually by adding a grade. The Ursuline Sisters of Cincinnati helped the Cuban sisters acclimate to American teaching methods, and two Ursulines aided with daily operations.
Today, Saint Monica's peace and justice committee works with area churches to address issues such as affordable housing, health care access, immigration and education. Other outreach efforts at the Spanish and English parish include Legion of Mary activities and other groups that serve the needy.
La primera misa de la parroquia de St. Monica fue celebrada en mayo de 1959 en la escuela primaria Myrtle Grove. Para el mes de septiembre, las misas dominicales se celebraban en la escuela Carol City Junior High, mientras que la misa diaria se celebraba en una pequeña casa, conocida como Little White House, localizada en los terrenos de la iglesia, antes de mudarla a lo que hoy es la rectoría. La iglesia actual, construida y dedicada en 1961, fue planifi cada originalmente como una combinación de salón y cafetería.
Una escuela parroquial, a cargo de las Hermanas del Apostolado del Sagrado Corazón entre las primeras religiosas en llegar desde Cuba abrió sus puertas en 1962 con 240 estudiantes desde preprimaria hasta el tercer grado, la que se extendió al añadir un grado anualmente. Las religiosas ursulinas de Cincinnati ayudaron a las religiosas cubanas a acostumbrarse a los métodos de enseñanza de los Estados Unidos, y dos de las hermanas ursulinas ayudaron en la administración diaria de la escuela.
En la actualidad, el comité de paz y justicia de St. Monica trabaja con otras iglesias del área sobre asuntos como vivienda económica, acceso al cuidado de la salud, inmigración y educación. Otros apostolados de la parroquia bilingüe incluyen las actividades de la Legión de María y otros grupos de ayuda a los necesitados.
Premye lamès ki chante nan St. Monica te chante an Me 1959 nan Myrthle Grove Elementary School. Rive Septanm, lamès Dimanch yo te deplase al fèt nan Carol City Junior High School e lamès tou lè jou nan yon ti kay vakans yo te relè yon Ti Kay Blanch ki tebati sou tè legliz la avan li tal fèt nan kay ki sèvi kay pè jounen jodia. Nan kòmansman tè-a se yon sal pawasyal ak yon kafeterya yo ta pral bati sou li. Men yo te bati legliz la e li te konsakre an 1961.
Yon lekòl pawasyal louvri an 1962 ak 240 elèv soti klas matènèl rive elemantè II e chak ane yo te ajoute yon klas se mè kongregasyon Apostolate Heart of the Sacred Heart ki tedirije lekòl la. Yo te pami premye mè ki te soti Kiba yo. Mè ki tesoti nan kongregasyon Ursuline nan Sinsinati yo te ede mè kiba yo, montre yo kijan pwofesè te fè lekòl nan peyi Etazini. De nan Ursuline yo te dirije travay ki tegen pou fèt chak jou.
Jodia komite pou jistis ak lapè nan St. Monica travay ak lòt legliz nan zòn nan pou eseye rezoud kèk pwoblèm tankou pwoblèm moun ki pa ka jwenn kay pou yo rete, pwoblèm moun ki pa ka jwenn swen doktè, pwoblèm imigrasyon ak pwoblèm edikasyon. Pami lòt èd kòminotè pawas la ki palè ni Panyol ni Anglè ofri genyen aktivite Lejyon Mari, ak lòt gwoup ki ede moun pòv.