Please click here to report any information you know or believe to be incorrect. We will verify with the church and update the website.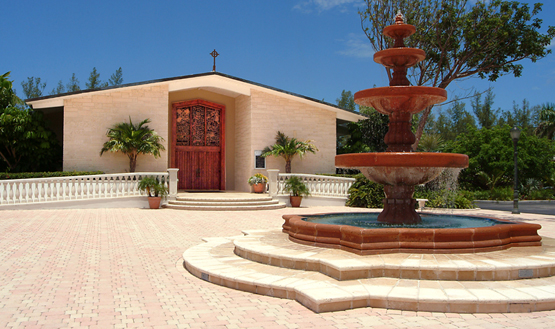 Founded on January 8, 1956
History
Catholics living in Marathon prior to 1948 traveled the Overseas Highway 50 miles to Key West to attend Mass at Mary Star of the Sea, a hazardous journey requiring passage over many bridges, including the Seven Mile railroad bridge affectionately tagged "old shaky." Throughout 1949 and 1950, Father Mairing traveled from Key West to Marathon to celebrate Mass in private homes before the growing Catholic community began using an old theater. A group of professional and amateur builders, plumbers, electricians donated their time and expertise to build a church in 1950 on donated land, and Bishop Hurley named it the "Mission of the Holy Cross."
Outgrowing its original site by 1957, another church was constructed on a larger, donated tract. Renamed San Pablo, the mission was elevated to parish status in 1958. Parishioners opened a school in two prefabricated buildings that had been floated on a barge 125 miles from Miami to Marathon.
Parishioners built an exquisite prayer garden, open twentyfour hours a day and especially beautiful during Christmas with more than a half a million lights on display.
Los católicos que vivieron en Marathon antes de 1948, viajaban 50 millas en la autopista Overseas para asistir a la misa en Mary Star of the Sea, una jornada peligrosa que requería atravesar muchos puentes, entre ellos el del tren ferroviario Seven Mile (Siete Millas), afectuosamente conocido como "el viejo tambaleante". Entre 1949 y 1950, el Padre Mairing viajaba desde Key West a Marathon para celebrar la misa en hogares privados antes de que la creciente comunidad católica comenzara a utilizar un antiguo teatro. Un grupo de constructores profesionales y afi cionados, plomeros y electricistas, donaron su tiempo y experiencia para construir una iglesia en 1950 en unos terrenos donados, y el Obispo Hurley la llamó "Mission of the Holy Cross" (Misión de la Santa Cruz).
En 1957, cuando el recinto original ya quedaba muy pequeño, se construyó una iglesia en otro terreno donado. En esa ocasión fue llamada San Pablo; la misión fue elevada a la categoría de parroquia en 1958. Los feligreses utilizaron dos planteles prefabricados que se transportaron por mar unas 125 millas desde Miami a Marathon para establecer una escuela. También han construido un hermoso jardín para la oración, abierto las 24 horas, el cual es particularmente hermoso durante la Navidad, cuando es adornado con más de medio millón de luces.
Katolik ki rete nan Marathon anvan ane 1948 travèse lanmè a kote yo kouri 50 mil pou yo ale asiste Lanmès nan "Mary Star of the Sea"nan "Key West" ki se you wout ki gen anpil danje. Ou gen pou travèse anpil pon, youn ladan yo mezire 7 mil, epi li fèt an fè. Amikalman yo ba l non "old shaky" ( sa vle di ou pa ka konte sou li trop). Pandan ane 1949 ak 1950, Pè Mairing soti nan "Key West"pou l ale nan Marathon selebre Lanmès
lakay moun anvan kominote Katolik la te grandi pou yo te ka kòmanse itilize you plas kote yo te konn fè teyat. Yon gwoup pwofesyonèl ak amatè tankou: konstriktè, plonbye, ak elektrisyen te bay tan yo ak talan yo pou yo te bati yon Legliz nan ane 1950 sou yon pòsyon tè yo te resevwa kòm kado. Evèk Hurley te rele l "Mission of the Holy Cross." Nan ane 1957 yo te bati yon pi gwo Legliz sou yon pi gwo moso tè ki te yon kado tou. Apre konstriksyon sa a Legliz la te vin rele "San Pablo" e li te vin yon pawas nan ane 1958. Pawasyen yo te ouvè yon lekòl nan 2 "prefabricated buildings"( kay yo te bati yon lòt kote epi yo mete l kote yo vle) ki te soti "Miami"pou l ale "Marathon" ki te yon distans 125 mil.
Pawasyen yo te fè tou yon bèl jaden ki te ouvè tout lajounen tout lannwit pou moun al lapriyè. Pandan sezon Nwèl li vin pi bèl lè yo dekore l ak plis ke demi milyon limyè.