Please click here to report any information you know or believe to be incorrect. We will verify with the church and update the website.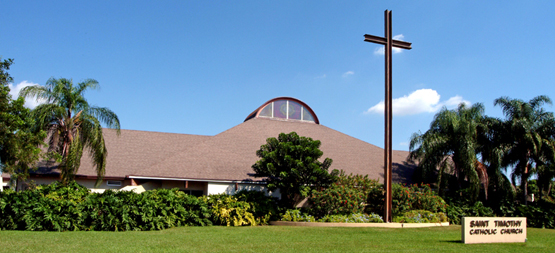 History
St. Timothy was founded in 1960, and Mass, was celebrated in the auditorium of Southwest Miami High School by Father Thomas O'Donovan, pastor of the neighboring St. Brendan. As the parish grew, arrangements were made with University of Miami to obtain a WWII barracks, being discarded by the institution.
Renovation to the building cobbled together, gutted inside and out began in July 1961. Except for plumbing and electrical work, parishioners, using donated materials, completed all renovations. Food Fair Stores donated the altar rail, the shelves, and showcases for the gift shop.
A local fixture shop donated materials for the altar, proper steps, a platform, and a crew to build it. A hotel donated a gold rug to cover the altar and a Jewish neighbor donated blueprints for the confessionals.
Parishioners opened a school in 1961 with 195 students enrolled in grades one through four. In 1963, they added the fifth grade. Today the school offers pre-kindergarten-4 through eighth grades, and a parish learning center offers pre-kindergarten-2 and pre-kindergarten-3.
Parishioners distribute food to the hungry and participate in other outreach.
Saint Timothy fue fundada en 1960. La misa se celebraba en el auditorio de la escuela superior Southwest Miami con el padre Thomas O'Donovan, párroco de Saint Brendan, una iglesia vecina. Según creció la parroquia, se hicieron los arreglos con la Universidad de Miami para obtener unas barracas de la Segunda Guerra Mundial que estaban siendo descartadas por la institución. La renovación del edificio comenzó en julio de 1961.
Con excepción del trabajo eléctrico y de plomería, los feligreses completaron todas las renovaciones utilizando materiales donados. Las tiendas Food Fair donaron el pasamano del altar, los estantes y los escaparates para la tienda de regalos. Una tienda de enseres cubrió los gastos de los materiales para el altar, los escalones, una plataforma, y la labor para su construcción. Un hotel donó una alfombra dorada para el altar, y un vecino judío donó los planos para los confesionarios.
Los feligreses abrieron una escuela en 1961 con 195 estudiantes del primero al cuarto grado. En 1963 añadieron un quinto grado. En la actualidad, la institución ofrece educación desde la escuela pre primaria hasta el octavo grado, y la parroquia tiene un centro de enseñanza para niños de 2 y 3 años de edad.
Los feligreses distribuyen alimentos a los necesitados y participan en otros programas de ayuda.
Sen Timotée te fonde nan ane 1960. Pè Thomas O'Donovan, ki te kire nan St. Brendan lè sa te konn selebre lamès pou Sen Timothé nan oditoryòm Southwest Miami High School la. Kòm pawas la t ap grandi te gen aranjman ki te fèt ak « University of Miami » pou yo te itilize youn nan kay kote militè yo te konn reteki te disponib. Renovasyon batiman an te kòmanse andedan kòm andeyò nan mwa Jiyè 1961.
A leksepsyon plonbri ak elektrisite, pawasyen yo te itilize materyèl yo te resevwa an kado pou yo te fini renovasyon an. « Food Fair Stores » te ba yo Lotèl la ak etajè pou Gift Shop la (yon ti boutik Legliz yo genyen pou van kado ak atik relijye). Yon brikabrak nan zòn nan te ba yo materyèl tankou : nechèl, platfòm ak vis pou yo te knostwi lotèl la. Yon otèl te ba yo yon tapi koulè lo pou kouvri Lotèl la. Epi yon vwazen Jwif te ba yo plan pou konfesyonal la.
Pawasyen yo te louvri yon lekòl nan ane 1961. Li te genyen 195 elèv ki te anrejistre nan grad 1 jiska grad 4. Nan ane 1963 yo te ajoute grad 5 lan. Jodia lekòl la ofri klas pou timoun k ap debite, ak jaden danfan 4 jiska klas wuityèm. Yo genyen tou yon Sant Pawasyal ki ofri tou klas katechis pou timoun k ap debite ak jaden danfan 2 ak 3.
Pawasyen yo distribiye manje ba moun ki grangou yo epi yo patisipe nan diferan kalite sèvis sosyal.