Please click here to report any information you know or believe to be incorrect. We will verify with the church and update the website.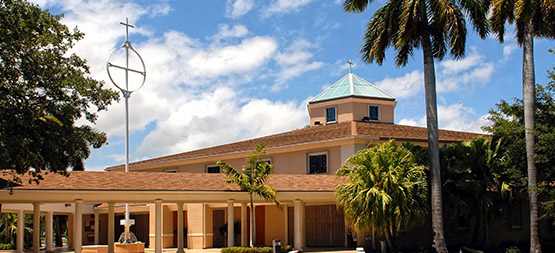 CONTACT INFO
History
Established in 1969 when Masses were first celebrated at the Coral Reef Elementary School cafeteria and in Saint Andrew Episcopal Church, Saint Richard parish acquired a worship space in 1971, now the parish house on its present campus. Through hard work and sacrifice, parishioners broke ground for a new multipurpose building in 1973, completed later in the year. It included a chapel area, office space, classrooms, a hall and kitchen facilities for parish functions. A proper worship space was completed and dedicated in 1989.
The parish suffered disaster when Hurricane Andrew damaged its new sanctuary, the parish house, and the family center roof. The devastated parish held Masses a week after the hurricane in the family center where garbage pails caught residual waters. Under the direction of Father Bryan Dalton, the church reconstruction began.
Parishioners serve the community through an array of outreach activities and supporting Saint Ann's mission, Respect Life, and visits to the sick and homebound. A vibrant music ministry includes a youth orchestra and youth and adult choirs.
St. Richard fue establecida en 1969 y sus misas eran celebradas en la cafetería de la escuela primaria Coral Reef, y en la iglesia episcopal St. Andrew. En 1971 adquirió un lugar para el culto, utilizado en la actualidad como casa parroquial. Con gran esfuerzo y sacrifi cio, los feligreses colocaron en 1973 la primera piedra para un edifi cio de usos múltiples, cuya construcción se fi nalizó al año siguiente. Incluía un área para la capilla, ofi cinas, salones de clases, un salón y una cocina para las actividades parroquiales. En 1989 se fi nalizó la construcción de un lugar apropiado para el culto, dedicado ese mismo año.
En 1992, el huracán Andrew ocasionó daños a su nuevo santuario, a la casa parroquial, y al techo del centro familiar. A la semana siguiente, la devastada parroquia celebró las misas en el centro familiar, donde cestos de basura recogían el agua. La fase de reconstrucción se inició bajo la dirección del Padre Bryan Dalton.
Los feligreses sirven a la comunidad a través de una cantidad de apostolados, apoyan a la misión de St. Ann, al Respeto a la Vida, y visitan a los enfermos. Su vibrante apostolado de música incluye una orquesta juvenil, y coros de niños y de adultos.
Nan lane 1969 St. Richard te kòmanse selebre premye mès li nan kafeteria lekòl primè "Coral Reef" la ak nan Legliz Episkopal St. Andrewa. St. Richard te vin gen pwòp plas pa l nan ane 1971. Apre anpil sakrifi s ak travay di, pawasyen yo te vin gen yon lòt kay ki te sèvi yo pou anpil aktivite nan ane 1973. Nan kay sa a: te genyen yon zòn pou yon chapèl, plas pou yon ofi s, sal pou klas, yon koulwa, epi yon kwizin pou aktivite pawas la, yon plas apwopriye pou litiji a te dedikase nan ane 1989.
Pawas la te andomaje lè siklòn Andrew te pase. Tèt kay pawas la te ale ansanm ak tèt sant pou aktivite fanmiy yo. Yon semèn apre siklòn la, pawas la te selebre lanmès yo nan sant fanmiy la nan mitan yon pakèt fatra ak ma dlo. Pi devan, Pè Bryan Dalton te kòmanse rekonstriksyon Legliz la.
Pawasyen yo te sèvi kominote a ak yon pakèt aktivite epi yo te sipòte tou aktivite sa yo: "St Anne's mission, Respect Life. Epi yo te vizite malad yo ak "homebound". Yo te gen tou yon "music ministry"ki te trè pwuisan.Te gen you òkès pou jènn yo, yon koral pou granmoun yo ak yon koral pou jèn yo.