Please click here to report any information you know or believe to be incorrect. We will verify with the church and update the website.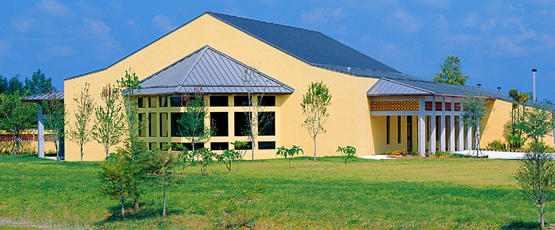 History
Established in 1989, the Archdiocese's 104th parish, Mary Help of Christians continues to serve area
Ethnically diverse worshipers have formed an array of ministries within the parish. Parishioners attending the Spanish Mass come from many countries, enriching the church's spirituality with their diversity.
The 1993 purchase of 11.4 acres led to a parish center construction that was completed, dedicated and consecrated in 1996. Additional acres were later purchased to add a grade school.
A preschool established in 1999 services families with children from 18 months to 5 years of age. The preschool is accredited and is a Gold Seal Florida School. The elementary school began in 2000 with 12 students. Seven short years later, the school now accommodates 413 students in grades kindergarten through eighth.
The parish received a grant in 1995 from the National Council of Catholic Bishops to develop resource material for creative land stewardship for diocese and parishes to model. It received a third place Broward Beautiful Beautification Award in 1998.
The parish welcomes the next leg of its faith journey.
Establecida en 1989, la 104ta parroquia de la Arquidiócesis, Mary Help of Christians continúa su servicio a los católicos de Parkland.
Un grupo culturalmente diverso de feligreses ha creado una variedad de ministerios en la parroquia. Aquellos que asisten a la Misa en español proceden de muchos países y su enriquecen la espiritualidad de la iglesia con su diversidad.
Con la compra de 11 acres de terreno en 1993, se inició la construcción del centro parroquial, que fue dedicado y consagrado en 1996. Después se compraron más hectáreas para añadir una escuela. En 1999 se estableció un jardín de infantes para las familias con niños de 18 meses a 5 años de edad. Esta escuela preprimaria está acreditada y ha recibido el "sello de oro" (Gold Seal) del estado de la Florida. La escuela primaria, fundada en 2000 con 12 estudiantes, ahora sirve a 413 estudiantes desde kindergarten hasta el octavo grado.
En 1995, la parroquia recibió una subvención del Concilio Nacional de Obispos Católicos para desarrollar materiales educativos sobre métodos creativos para la mayordomía de la tierra, con el propósito de que fueran utilizados por otras diócesis y parroquias. En 1998 recibió el tercer lugar del Premio al Embellecimiento de Broward. La parroquia se encuentra preparada para la próxima etapa en su jornada de fe.
Etabli nan lane 1989, kòm sankatriyèm pawas achidyosèz la, pawas Mary Help of Christians (Mari Sekou Kretyen yo) kontinye sèvi katolik nan zòn Parkland. Nan kòmansman, mès yo te selebre anprive lakay pawasyen yo, nan ti kay akote lekòl elemantè Park Springs, epi apre sa nan lekòl elemantè Country Hills.
Acha 11.4 kawo tè te pèmèt tanmen travay batisman yon sant pawasyal ki te fi n konstwi, ki te konsakre nan lane 1996.
Nan lane 1999 yon lekòl primè te etabli soti nan klas jadendanfan jis rive nan sizyèm ane. Pawas la fyè de kalite jefò l ap fè nan gerans kominote a kòm lekòl ki akredite sou sivèyans Gold Seal Florida School. Li te resevwa yon prim nan lane 1995 ki te soti nan Konsèy Nasyonal Evèk Katolik yo pou devlope yon pwogram gerans ak resous materyèl ki k ap sèvi kòm modèl pou tout lòt dyosèz ak pawas. Epi li te an twazyèm pozisyon nan prim ke Broward Beautiful Beautifi cation te bay nan lane 1998.
Pawas la jounen jodiya kontinye ap prepare pou lòt jenerasyon kretyen k ap mache sou wout lafwa a.