Please click here to report any information you know or believe to be incorrect. We will verify with the church and update the website.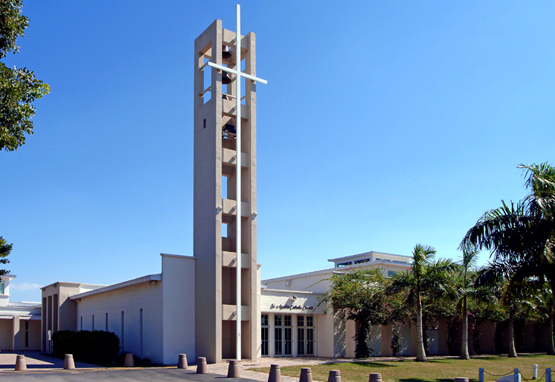 History
Founded June 4, 1971 and named for the Sicilian martyr Agatha, patron saint of nurses, firemen, and those suffering from breast cancer, the parish celebrated its first Masses at the auditorium of Miami Coral Park Senior High School. Parishioners launched a Saint Vincent de Paul Society to aid the community's poor and the Saint Agatha's Guild, which first met in a nearby temple, thus creating strong bonds between the congregations that lasted for many years. The Guild held its first social, a pre-Thanksgiving Dance, at the temple.
As soon as a church building was completed and dedicated in 1978, parishioners planned the construction of a school, which opened in 1984 with two kindergarten classes offered in the parish hall. Two years later, ground was broken for a school, which serves about 1,800 children in either academic or CCD classes.
Parish life centers in the church dedicated in 2000 and extends into ministries such as Bible Study, a Good Samaritan program to assist the needy, as well as a Pastoral Service given to the Florida International University (FIU), and many others.
Pope John Paul II inspired thousands when he celebrated Mass in Tamiami Park, within St. Agatha's boundaries. The parish also rejoiced at the consecration of its fourth pastor, Most Rev. Felipe de Jesús Estévez, as auxiliary bishop of Miami in 2004.
Fundada el 4 de junio de 1971 y bautizada con el nombre de Agueda, la mártir siciliana patrona de las enfermeras, los bomberos y de quienes padecen cáncer del seno. Sus primeras misas fueron celebradas en el auditorio de la escuela superior Miami Coral Park. Los feligreses organizaron la Sociedad de San Vicente de Paúl para ayudar a los pobres de la comunidad, así como la Cofradía de Santa Agueda, que inicialmente se reunía en un templo cercano. De esta manera establecieron fuertes y duraderos vínculos con otras comunidades. La Cofradía realizó su primer Baile de Acción de Gracias en aquel templo. Tan pronto se finalizó la construcción y la dedicación de la iglesia en 1978, los feligreses planificaron la construcción de una escuela, que abrió en 1984 con dos clases para niños de edad preescolar, ofrecidas en el salón parroquial. Dos años más tarde, se colocó la primera piedra para una escuela, que atiende a unos 1,800 niños tanto al nivel académico como en la educación religiosa.
La vida parroquial se centra en la iglesia, dedicada en el año 2000, y se extiende a los apostolados, entre ellos el estudio bíblico, el programa del Buen Samaritano para ayudar a los necesitados, al igual que un Servicio Pastoral a la Universidad Internacional de la Florida (FIU). El Papa Juan Pablo II inspiró a miles cuando celebró la misa en el parque Tamiami, que queda dentro de los límites de la parroquia. La parroquia también celebró la consagración de su cuarto párroco, monseñor Felipe de Jesús Estévez, como obispo auxiliar de Miami en 2004.
Pawas la fonde nan lane 1971 sou non Sent Agatha, mati Sisilyèn nan ki te patwòn tout enfi myè, Patròn Ponpye, ak sila yo ki soufri kansè nan sen. Premye mès yo te selebre nan lokal oditoryòm lekòl siperyè Miami Coral Park. Fidèl yo te òganize yo pou fòme sosyete Saint Vincent de Paul pou ede sila yo ki pòv. Menm jan tou fòmasyon gwoup Oganizasyon Fanm Sent Agatha yo te kreye yon lyen solid nan mitan kongregasyon yo ki dire pou anpil tan. Oganizasyon an te lanse premye fèt li, ki se yon Dans avan Thanksgiving, ki te fèt nan legliz l a menm. Apre sa yon nouvo legliz te fi n inogire nan lane 1978, pawasyen yo te komanse planifye pou bati yon lekòl tou, ki te louvri pòt li nan lane 1984 ak de klas jadendanfan sèlman nan sal pawasyal la.
Dezan apre, lekòl la te bati pou l te sèvi 1,800 elèv konsa, swa nan klas akademik oubyen klas pou katechis. Nan lane 2000, yon sant pawasyal te inogire. Fidèl yo patisipe na divès kalite apostola., tankou etid biblik pou paran timoun katechis, pwogram Bon Samariten ki ede ak bezwen pòv yo. Pawas sent Agatha te komanse bay sevis pastoral li tou nan Inivesite Internasyonal Florid la depi nan lane 1970 ak Monsye Felipe Estevez. Pawas la kontinie menm tradisyon sa-a kote li genyen yon Pe Katolik en plen tan ki la pou sevi jen ak manb fakilte-yo. Li ofri elev ak manb fakilte-yo plizie sevis, tankou Lanmes ak Konfesyon chak Mekredi, Kou biblik ak katechis, adorasyon Sent Sakreman, retret, konferans, Sevis sosyal nan plizie kominote-nan Sid Florid la, konsey ak gid espirityel ak anpil lot aktivite. Gras a sipo pawas Sent Agatha avek Achidiosez Miami, Kampus Ministri nan FIU kapab bay tout sevis sa yo, konsa nou kapab kontinie pote Levanjil Jezi Kri–a bay tout moun nan cheche genyen konesan solid nan Bondye ak yon relasyon pesonel pi fe-m ak Jezi Kri-la nan viv Sakreman Legliz-la, Pawol Bondye, ak Laprie.
Pap Jan Pòl II te enspire yon dèmilye de moun nan limit pawas Sent Agatha a lè l te selebre lamès nan Tamiami Park. Pawas la te rejwi tou lè yo te konsakre katriyèm kire l kòm Evèk oksilyè, Monsenyè Felipe Estevez, nan lane 2004.