Please click here to report any information you know or believe to be incorrect. We will verify with the church and update the website.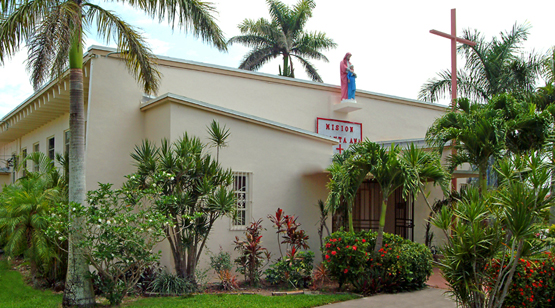 Founded in 1961
CONTACT INFO
History
Founded in 1961, Saint Ann Mission, which has no boundaries, serves migrant farm workers in the southern parts of Miami-Dade County. Since its inception, the mission was staffed by an administrator, a part-time deacon, three missionaries and a part-time secretary. The mission has provided an array of services to the estimated 25,000 to 40,000 laborers working in the area's fields and nurseries, particularly from September to April. Pastoral services include evangelization, weekend retreats, religious education, and outreach to youth groups. The pastoral staff officiates at baptisms, marriages, funerals, First Communions and Confirmations
While the majority of workers live in Homestead, Florida City and Leisure City areas, the rest live in labor camps. The mission provides other services such as psychological counseling, emergency food and clothing, medical consultations, financial aid with crisis rent and utility payments, prescriptions and funeral bills.
A single trailer houses religious education classes and a double trailer, a health clinic. All social activities occur in the mission hall. The building that functions as a worship space holds 250 people, despite regularly attracting 450 worships to Sunday Mass.
Establecida en 1961, la Misión St. Ann no tiene fronteras, y sirve a los trabajadores agrícolas al sur del condado de Miami-Dade. Desde sus inicios, la Misión contaba con un administrador, un diácono, tres misioneros y una secretaria a tiempo parcial. Ha ofrecido innumerables servicios a unos 25,000 a 40,000 trabajadores que laboran en los campos y los viveros de la región, en particular durante los meses de septiembre hasta abril. Los servicios pastorales incluyen la evangelización, los retiros de fi nes de semana, la educación religiosa, y los grupos juveniles. El equipo pastoral participa en los bautismos, las bodas, los funerales, la Primera Comunión y la Confirmación.
Aunque la mayoría de los trabajadores reside en las áreas de Homestead, Florida City y Leisure City, el resto vive en los campos de trabajo. La misión ofrece otros servicios, como consejería sicológica, alimentos y vestido, consultas médicas, ayuda económica para el pago del alquiler y los servicios públicos, medicinas y gastos funerales.
Un sencillo remolque alberga el salón para las clases de educación religiosa, y otro remolque doble es utilizado como clínica de salud. Todas las actividades sociales tienen lugar en el salón de la misión. El edifi cio que se utiliza para el culto tiene capacidad para 250 personas, aunque unas 450 asisten a la misa dominical.
Etabli nan lane 1961, Misyon Sent Anne pa gen limit, kifèla li desèvi tout travyè agrikòl ki nan zòn Sid kontre Miami Dade lan. Depi lè l te kòmanse, Misyon an te genyen kòm responsab yon Diak, twa misyonè ak yon sekretè ki travay matye jounen. Li ofri yon latriye sèvis ki estime a valè 25, 000 a 40, 000 travayè k ap travay sou chan yo ak nan jaden plantasyon yo, èspesyalman ant mwa Septanm pou rive nan Avril. Nan travay pastoral yo, yo fè evanjelizasyon, retrèt fend semenn, edikaksyon religyèz, apostola pou jèn yo. Ekip pastoral la prezide batèm, maryaj, fi neray, premyè kominyon ak Konfi masyon.
Malgre majorite nan travayè yo viv nan zòn Homestead, Florida City ak Leisure City, yon bon pati nan yo viv sou plantasyon yo menm. Misyon an ofri lòt sèvis tou tankou konseye sikologik, asistans alimantè ak rad, konsiltasyon medikal, asistans fi nansye, lwaye pou peye ak itilite kay la, èd ak sèvis piblik, remèd ak frè antèman. Yon ti kay trelè sèvi pou edikasyon religyèz epi yon lòt ti kay ak plis espas sèvi kòm klinik lasante. Tout lòt aktivite sosyal yo fèt nan gran sal misyon an. Sal ki itilize pou lapriyè ak pou fè mès gen kapasite pou pran 250 moun. Men sa pa anpeche 450 moun rasanble ladan l regilyèman pou lamès lèdimanch.