Please click here to report any information you know or believe to be incorrect. We will verify with the church and update the website.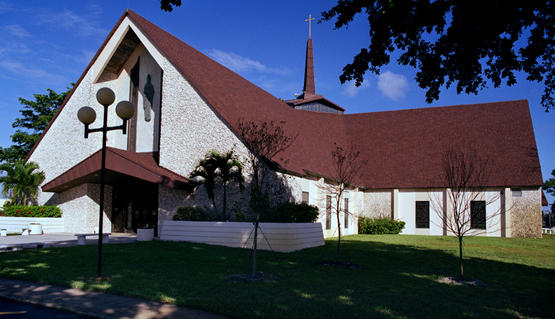 Founded on August 16, 1962
History
Father Sebastian Loncar, Saint Ambrose's first pastor, celebrated the parish's first Mass at the Deerfield Beach Junior High School auditorium in 1962. Weekly attendance reached about 450 people, prompting a move to two storefronts on Federal Highway, the present site of King Toyota. Parish men renovated the store fronts and erected a chapel furnished with wooden folding chairs and donated statues. Attracting nearly 1,000 people weekly, the parish thrived; a church and a school were constructed and dedicated in 1964.
The parish expanded the school, adding a grade each year, and by 1967 constructed a second school building and a covered walkway. Currently, the school complex includes three buildings, locker rooms for physical education, coaches' offices, a warehouse, and tennis and basket ball courts.
The rapidly growing stewardship parish constructed the present church structure; parishioners opened a thrift shop and food pantry for the needy and participate in numerous ministries, including Saint Vincent de Paul Society and outreach to the elderly, disabled and bereaved. Volunteers staff a parish gift shop and hold annual carnivals that support school and church activities.
El Padre Sebastian Loncar, primer párroco de St. Ambrose, celebró la primera misa de la parroquia en el auditorio de la escuela Deerfi eld Beach Junior High en 1962. La asistencia semanal llegaba a unas 450 personas, lo que provocó que se mudaran a un local en un centro comercial de Federal Highway que en la actualidad es utilizado por King Toyota. Los caballeros de la parroquia renovaron la fachada de los locales y erigieron una capilla, con sillas plegables de madera e imágenes donadas. La parroquia creció, y atraía a unas 1,000 personas semanalmente. La iglesia y una escuela fueron construidas y dedicadas en 1964.
La parroquia amplió su escuela, y añadió un grado cada año. Para el 1967 añadió un segundo edifi cio para la escuela, así como una pasarela cubierta. En la actualidad, el complejo escolar cuenta con tres edifi cios, vestuarios para el gimnasio, ofi cinas para los entrenadores, un almacén, y canchas de tenis y baloncesto.
La parroquia de rápido crecimiento construyó la actual estructura de la iglesia; los feligreses abrieron una tienda de artículos usados y una despensa de alimentos para los necesitados, y participan en numerosos apostolados, incluyendo la Sociedad de San Vicente de Paúl y servicios para los ancianos, los discapacitados y las personas en luto. Los voluntarios se encargan de la tienda de obsequios de la parroquia, y realizan festivales anualmente para el sostén de las actividades de la escuela y la iglesia.
Pè Sebastian Loncar, ki te premye kire pawas la, te selebre premye mès la nan oditoryòm Deerfi eld Beach Junior High nan lane 1962. Chak semenn, te konn gen 450 fi dèl konsa ki konn vin lamès. Kifè yo te oblije deplase lokal la, pou ale nan de sal yon sant komèsyal sou wout Federal Highway, bò kote King Toyota ye konnyè an. Pawasyen yo te renove fasad lokal sa, pou yo te fè l tounen yon chapèl ki te founi ak chèz pliyant anbwa ak estati yo te fè pawas la kado. Se konsa pawas la te kòmanse rale plis moun, konsa yon nouvo legliz te bati ansanm ak yon lekòl ki te inogire nan lane 1964.
Pawas la te vin agrandi lekòl, pou l te ajoute yon klas anplis chak ane. Distans pou lane 1967 te rive, yon lòt edifi s pou lekòl te bati. Pou jodiya, lekòl la genyen twa batiman, yon gymnazyòm pou sport, yon biro, yon depo, ansanm ak teren pou tenis ak basketball.
Kòm yon pawas kap grandi anpil, batiman legliz la te rebati. Fidèl yo louvri yon brikabrak ak yon gadmanje ki sèvi bezwen pòv yo. Yo patisipe nan divès kalite apostola tankou Saint Vincent de Paul, apostola pou granmoun yo, pou andikape yo ak sila yo ki an dèy. Pawasyen yo volontye tan yo pou sèvi nan mezon atik religye, nan kanaval ki sipòte aktivite lekòl sou pawas la.