Please click here to report any information you know or believe to be incorrect. We will verify with the church and update the website.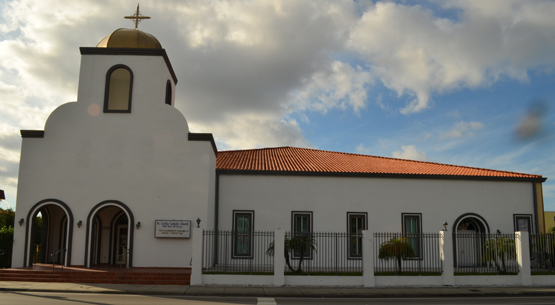 History
In the heart of Hialeah since 1971, Saint Cecilia continues to serve the needs of a growing Catholic population, mostly Cuban exiles and Latin American immigrants. Archbishop Coleman F. Carroll appointed Father Juan Antonio Lacalle as pastor of the newly formed parish, named for the patron saint of musicians. Its first masses were celebrated at Filer High School.
Hurricane Andrew destroyed a small, old Protestant church, prompting the thriving parish to purchase the structure in 1992, though money was scarce, and to launch a renovation project. During the church's renovation, parishioners celebrated Mass in a parish hall that had been built in 1981. Archbishop John C. Favalora dedicated the parish's new church in 1996. In the same year, the parish opened a day care center for children ranging from two to five years.
In 2009, the parish was closed until Archbishop Thomas Wenski reopened it in 2011 by establishing the Redemptoris Mater Seminary for the Archdiocese of Miami on the premises. Since then, the priests and seminarians revamped the church and facilities in addition to being involved in many different evangelization initiatives in the neighborhood. Every Sunday night after the 6 p.m. Mass, the people are welcomed for Evening Prayer and Benediction with the seminarians.
St. Cecilia, localizada desde 1971 en el corazón de Hialeah, continúa atendiendo las necesidades de una población católica en crecimiento, en su mayoría integrada por exiliados cubanos e inmigrantes latinoamericanos. El Arzobispo Coleman F. Carroll nombró al Padre Juan Antonio Lacalle como párroco de la recién formada parroquia, bautizada con el nombre de la santa patrona de la música. Sus primeras misas fueron celebradas en la escuela superior Flier.
Aún con la escasez de dinero que provocó el azote del huracán Andrew en 1992, la iglesia compró la estructura de una pequeña iglesia protestante que quedó destrozada, y lanzó una campaña para su renovación. Durante la renovación de la iglesia, los feligreses celebraban la misa en el salón parroquial que había sido construido en 1981. El Arzobispo John C. Favalora dedicó la nueva iglesia en 1996. Ese mismo año, la parroquia inauguró un centro de cuidado diurno para niños de dos a cinco años.
En 2009, la parroquia fue cerrada hasta que el arzobispo Thomas Wenski la abrió de nuevo en 2011, estableciendo en las instalaciones el Seminario Redemptoris Mater para la Arquidiócesis de Miami. Desde entonces, los sacerdotes y los seminaristas han renovado la iglesia y las instalaciones, además de estar involucrados en varias iniciativas de evangelización en el barrio. Todos los domingos, después de la Misa de las 6 p.m., se da la bienvenida a los feligreses para la Oración Nocturna y la Bendición con los seminaristas.