Please click here to report any information you know or believe to be incorrect. We will verify with the church and update the website.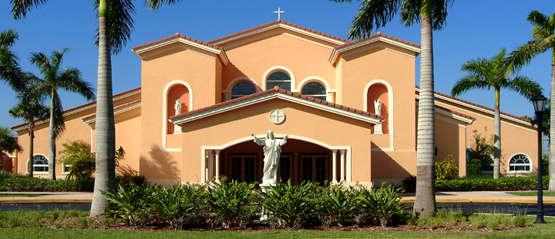 History
Our Lady of Lourdes, founded in 1985, continues to serve the Catholics in the fast growing West Kendall area. The first Mass was celebrated in the gymnasium at Boystown, adjacent to the current parish property. On the Feast of Our Lady of Lourdes Archbishop Edward A. McCarthy dedicated in 1990 the parish's present temporary church and facilities. Hurricane Andrew in 1992 caused extensive damage to the parish and to parishioners' homes but together everyone helped to rebuild.
With more than 1,000 families by 1994, and more than 400 children and 10 adults enrolled in religious education classes, parishioners began establishing a school. It opened in fall 1997 with 240 students in pre kindergarten 3 to fourth grade and through the years expanded to include grade eight.
Now with more than 5,000 families from more than thirtynine countries, the nine weekend Masses attract about 15,000 worshipers. A dedication of a new Mediterraneanstyle church that seats 1,200 worshipers took place in 2002. Parishioners participate in an array of spiritual and service ministries, including Emmaus retreats; they host an annual carnival to support parish activities.
Fundada en 1985, Our Lady of Lourdes continúa su servicio a los católicos del área de West Kendall, una de las zonas de más rápido crecimiento. La primera misa fue celebrada en el gimnasio de Boystown, próximo a la actual propiedad de la parroquia. En 1990, durante la Fiesta de Nuestra Señora de Lourdes, el Arzobispo Edward A. McCarthy dedicó las instalaciones temporeras y la iglesia. En 1992, el huracán Andrew ocasionó extensos daños a la parroquia y a los hogares de los feligreses, pero unidos ayudaron en la reconstrucción.
En 1994, contaba con más de 1,000 familias, y más de 400 niños y 10 adultos estaban matriculados en las clases de educación religiosa. Ese año, los feligreses comenzaron a establecer una escuela, que abrió en el otoño de 1997 con un total de 240 estudiantes desde la edad preescolar hasta el cuarto grado. En la actualidad, la escuela se ha extendido hasta el octavo grado.
Al día de hoy cuenta con más de 5,000 familias provenientes de al menos 39 países, y sus nueve misas atraen unas 15,000 personas durante los fi nes de semana. En 2002 se dedicó una nueva iglesia al estilo mediterráneo con capacidad para 1,200 personas. Los feligreses participan en una diversidad de apostolados espirituales y de servicio, entre ellos los retiros de Emaús. También organizan un festival anual para apoyar las actividades parroquiales.
Fonde nan lane 1985, Notre Dame de Lourdes kontinye sèvi katolik nan zòn Lwès Kendall, youn nan zòn kap grandi rapid. Premye mès la te selebre nan gymnazyòm Boystown, ki anfas kote pawas lan ye konnyè an. Nan lane 1990, pwòp jou fèt Notre-Dame de Lourdes lan, achevèk Edward McArthy te inogire enstalasyon tanporè ansanm ak legliz pawas la. Nan lane 1992, siklòn Andrew te koze anpil domaj ni sou pawas la ni sou kay pawasyen yo, men malgre sa yo rete solidè pou ede ak rekonstriksyon yo.
Nan lane 1994, nou te konte plis pase 1,000 fanmiy ki tap mache sou pawas la, ansanm ak 400 timoun epi 10 granmoun te enskri nan klas pou ledikasyon religyez. Menm ane sa a, fi dèl yo te kòmanse mete yon lekòl kanpe ki te fi ni nan lane 1997 pou kòmanse klas ak 240 etidyan depi laj preskolè jis nan katriyèm ane. Aktyèlman, klas yo rive jouk n an wuityèm ane.
Nan jounen jodiya, ak plis pase 5,000 fanmiy ki soti 39 peyi divès, genyen nèf mès ki selebre chak fend semenn ki rasanble plis pase 15,000 moun. Nan lane 2002, yon nouvo legliz ki bati nan yon stil mediteraneyèn te inogire, ki ka pran 1,200 moun. Fidèl yo patisipe nan divès kalite apostola espirityèl ak sèvis sosyal. Epitou yo òganize yon festival chak ane pou benefi sye pawas la nan aktivite li yo.