Please click here to report any information you know or believe to be incorrect. We will verify with the church and update the website.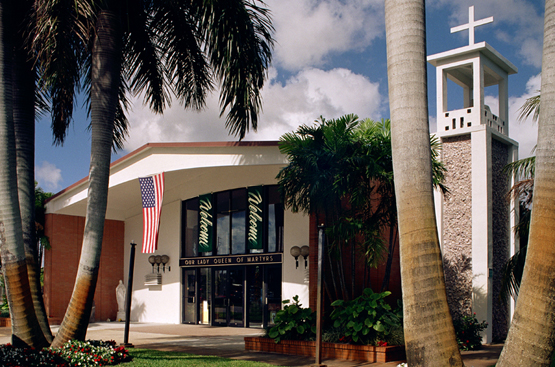 Founded on January 21, 1953
History
Formed from part of Saint Anthony parish in 1956, Our Lady Queen of Martyrs served Catholics in Fort Lauderdale. Parishioners attended Mass at Catholic Central High School (now Saint Thomas Aquinas High School), and opened a school in 1957. Sisters of Saint Joseph and ten lay teachers staffed the school, located in the church-cafeteria complex, dedicated in 1957. The Sisters of Saint Dominic of Adrian, Michigan replaced the Sisters of Saint Joseph in 1958; the Dominican Sisters stayed until the last sister retired in 1996. Students from pre-kindergarten-2 to eighth grade from all over Broward County attended Mass weekly, taking turns throughout the week. The school attracted students whose parents worked downtown.
Parishioners at the bi-lingual parish participate in numerous outreach activities, including Saint Vincent de Paul Society and Respect Life, among others. They operate a food pantry for the needy and have an Annual Family Festival. During the 1997 spring carnival, the Fort Lauderdale mayor renamed the street in front of the church Happy Hoyer Street for Pastor Father Michael "Happy" Hoyer, who regularly delivers the invocation at city council meetings.
Formada por parte de la parroquia de St. Anthony en 1956, Our Lady Queen of Martyrs sirve a los católicos de Fort Lauderdale. Los feligreses asistían a la misa en la escuela superior Catholic Central (ahora St. Thomas Aquinas), y abrieron una escuela en 1957. En la escuela, dedicada ese mismo año y localizada en el complejo de la iglesia y la cafetería, trabajaban las religiosas de San José y 10 maestras laicas. Las religiosas dominicas de Adrian, Michigan, sustituyeron a las religiosas de San José en 1958. Las religiosas dominicas permanecieron allí hasta que la última de ellas se retiró en 1996. Los estudiantes, desde la edad preescolar hasta el octavo grado, provenientes de distintos puntos del condado de Broward, toman turnos para asistir a la misa semanalmente. La escuela atrae a los estudiantes cuyos padres trabajan en el centro de la ciudad.
Los feligreses de la parroquia bilingüe participan en numerosos apostolados, entre ellos la Sociedad de San Vicente de Paúl y el Respeto a la Vida. También se encargan de una despensa de alimentos para los necesitados, y realizan dos festivales anuales. Durante el festival de primavera de 1997, el alcalde de Fort Lauderdale bautizó la calle frente a la iglesia como "Happy Hoyer Street", en honor del párroco, el Padre Michael "Happy" Hoyer, quien frecuentemente realiza la invocación en las reuniones del ayuntamiento.
Notre-Dame Rèn Mati yo ki desèvi popilasyon katolik nan zòn Fort Lauderdale, te fonde nan lane 1956. Se nan lekòl St. Thomas Aquinas High (ki te rele Catholic Central High lè sa) mès yo te kòmanse selebre. Sa pa te pran tan pou yo te bati yon legliz ki te inogire nan lane 1957 ansanm yon lekòl nan sal kafeterya legliz lan sou direksyon sè St. Joseph yo ansan ak 10 pwofesè layik. Apre sa, se sè Dominic Adrian yo ki te vin pran larelèv jouk lane 1996. Elèv nan klas jadendanfan jouk nan klas wityèm nan tout zòn Broward la te konn vin asiste lamès yo, chak klas yo yon jou diferan. Lekòl la te atire sitou timoun paran yo tap travay anba lavil la.
Fidèl sou pawas la, ki se yon pawas bileng, patisipe nan divès kalite apostola tankou St. Vincent de Paul, Sosyete Respè Lavi, ak lòt ankò. Yo opere sèvis ki bay pòv yo manje ansanm ak 2 festival chak ane. Nan lane 1997, majistra Fort- Lauderdale la te nome ri devan pawas la "Happy Hoyer" apre Pè Michael "Happy" Hoyer, kire nou an ki te toujou fè priyè envokasyon nan reyinyon konsèy yo vil la.