Please click here to report any information you know or believe to be incorrect. We will verify with the church and update the website.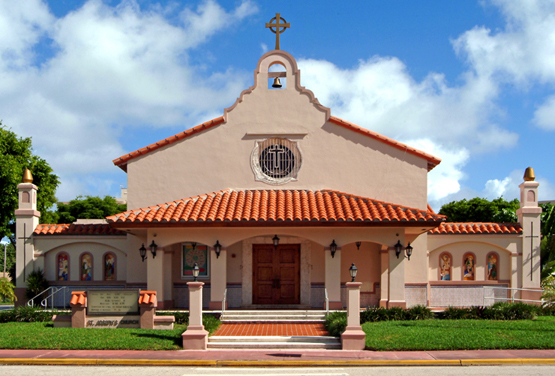 History
Monsignor William Barry, pastor of Saint Patrick's, announced in 1941 plans to construct a mission church; the mission was dedicated in 1942 to Saint Joseph, the patronage inspired by a parishioner who had attributed his liberation from the Dachau Nazi concentration camp to the Saint's intercession. Members formed the Women's Club with ten members who met at the rectory. Saint Joseph attained parish status in 1947 with Monsignor George Rockett as its fi rst pastor. The parish purchased Poolside Manor Apartments in 1954 to use as a school, and the Women's Club added a boutique to sell their hand-made items. The school, operated by the Adrian Dominican Sisters, opened in 1958 with 173 children in kindergarten through sixth grade; parishioners added a library in 1960.
Parishioners initiated religious education classes for public school children. A multipurpose center was constructed for students' theater and drama productions and other parish activities. A residence for the elderly Stella Maris opened in 1985, and the school was expanded to eighth grade. Parishioners participate in numerous ministries and embark on pilgrimages, including one to Medjugorji,Yugoslavia.
En 1941, monseñor William Barry, párroco de St. Patrick, anunció los planes para la construcción de una misión, cuyo patronazgo (dedicado en 1942) fue inspirado por un feligrés que atribuyó su liberación del campo de concentración nazi en Dachau a la intercesión de San José.
Los miembros de la misión establecieron un Club de Damas, cuyos 10 miembros se reunían en la rectoría. St. Joseph adquirió categoría de parroquia en 1947, y su primer párroco fue monseñor George Rockett. La parroquia compró el complejo de apartamentos Poolside Manor en 1954, el cual utilizó como escuela. El Club de Damas añadió una tienda para vender sus artículos hechos a mano. La escuela, administrada y atendida por las religiosas dominicas de Adrian, abrió sus puertas en 1958 con 173 niños de edad preescolar hasta el sexto grado. Sus feligreses añadieron una biblioteca en 1960.
Los feligreses iniciaron las clases de educación religiosa para niños de la escuela pública. Un centro para usos múltiples fue construido para las producciones teatrales de los estudiantes, y para otras actividades parroquiales. Una residencia para personas de la tercera edad Stella Maris abrió sus puertas en 1985, y la escuela fue ampliada hasta el octavo grado. Los feligreses participan en numerosos apostolados y han realizado peregrinaciones, entre ellas a Medjugorje, en la antigua Yugoslavia.
Nan lane 1941 Monseyè William Barry, pastè St. Patrick, fè konnen plan'l pou bati yon legliz misyonè; legliz la te konsakre nan lane 1942 anba banyè St. Joseph. Se yon pawasyen ki te rekonèt favè Sen-an nan liberasyon l soti nan kan konsantrasyon Nazi Dachau ki te enspire pratronaj sa-a. Manb legliz la te fòme yon gwoup fanm ki te genyen dis moun, yo te konn rankontre nan biwo legliz la. Se nan lane 1947 legliz St. Joseph rive vin yon pawas ak Monseyè George Rockett kòm premye kire l. Nan lane 1954 pawas la achte Pool Side Manor Apartments pou fè l sèvi kòmlekòl. Gwoup fanm nan mete sou pye yon boutik pou vann atik yo te konn fè . Lekòl la mè Adrian Dominican yo tap dirije-a, ouvè pòt li nan lane 1958 ak 173 timoun nan klas matènèl rive nan sètifi ka. Nan lane 1960 manb pawas la mete yon libreri.
Pawasyen yo mete sou pye klas èdikasyon relijye pou timoun lekòl piblik yo. Yon sant ki te ofri divès kalite sèvis pou etidyan ki tevle fè teyat ak lòt aktivite sou pawas la. Nan lane 1985 yon kay pou granmoun aje-Stella Marisouvè pòt li, e lekòl la agrandi pou pran timoun rive jous nan 5ème segondè. Pawasyen yo patisipe nan plizyè ministè e yo anbake nan kèk pelèrinaj pami yo yonn ki te mennen yo Mèdjugorji, Yougoslavi.