Please click here to report any information you know or believe to be incorrect. We will verify with the church and update the website.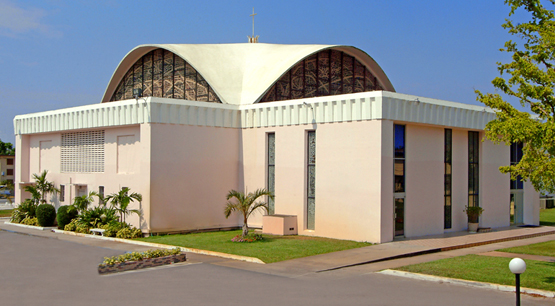 History
Saint John the Apostle Parish was established by Archbishop Joseph Hurley of St. Augustine in 1945 with Father Lawrence J. Flynn as its founding pastor. On January 22, 1950 the Most Reverend Thomas J. McDonough, Auxiliary Bishop of St. Augustine, celebrated a Pontifi cal Mass for the blessing and dedication of the school with a chapel-Auditorium, rectory and convent.
Father Peter Reilly, a young Irish priest, was appointed second pastor of St. John's in 1952.
In 1960, Bishop Carroll appointed Father James Connaughton pastor of St. John. In 1963, the parish celebrated the consecration of its new church.
In 1969, Father Thomas J. Rynne, an Irish priest, was appointed the fourth pastor of St. John.
In 1982, Father Paul Vuturo was appointed the fi fth pastor and began a "Parish Renewal".
In 1986, Father George Garcia, a Cuban priest, was appointed the sixth pastor. Under his leadership new spiritual programs were implemented.
On June 16, 1992, Archbishop Edward A. McCarthy appointed Father Emilio Martín, a priest from Spain, seventh pastor of St. John. He had served as associate pastor of the parish in 1964 and again in 1968.
Father Martin continued the tradition of previous pastors, emphasizing pastoral programs and ministries that make more members participate in the life of the Church and make the parish of St. John the Apostle a joyful Christian community.
Upon his retirement in 2010, Msgr. Oscar Castañeda was named pastor. He was succeeded in August 2013 by Father Hector Perez.
El Padre Lawrence J. Flynn es nombrado primer párroco de St. John the Apostle en Hialeah el 10 de noviembre de 1945. Se construye una capilla-auditorio, rectoría y convento. El Padre Flynn fallece en 1952 y le sucede el Padre Peter Reilly, seguido por el Padre James Connaughton en 1960. En 1963, se inaugura la bellísima iglesia parroquial con capacidad para 1,200 personas. En 1969 es nombrado párroco el Padre Thomas Rynne, seguido en 1982 por el Padre Paul Vuturo, quien construye el impresionante presbiterio de mármol y la pila bautismal. En 1986 le sucede el Padre Jorge García, sacerdote cubano, quien comienza una etapa de renovación de la planta parroquial y promueve cursos bíblicos.
En junio de 1992, el Arzobispo Edward A. McCarthy nombra al sacerdote español, Padre Emilio Martín, párroco de St. John. La parroquia cuenta en ese momento con seis sacerdotes y cuatro diáconos permanentes quienes, secundados por los movimientos apostólicos, se entregan con celo pastoral al crecimiento de la vida espiritual de la parroquia. Entre otras actividades: los enfermos del hospital son visitados diariamente, la Sociedad San Vicente de Paúl ayuda a las familias pobres, las visitas de la evangelización se extienden a miles de hogares, y el Santísimo Sacramento se expone de lunes a viernes todo el día en la capilla.
La parroquia celebró su cincuentenario en 1995. Como recuerdo, se adquiere de los talleres de Casa Granda de Madrid el Sagrario, obra bellísima de orfebrería religiosa, altar, púlpito y silla presidencial. La escuela celebra su cincuentenario, y el viejo edifi cio adquiere vida con nueva fachada y nuevo patio interior. La parroquia da gracias a Dios por las copiosas bendiciones que durante tantos años de vida parroquial ha derramado sobre esta comunidad de Hialeah.
Se Achevèk Joseph Hurley de Sen Ogisten ki te etabli pawas Sen Jan Apot la nan lane 1945 ak Pè Lawrence J. Flynn kòm kire fondatè. Jou 22 Janvye 1950 Monsenyè Thomas J. McDonnough, ki te Evèk Oksilyè Sen Ogisten, te selebre yon mès pontifi kal pou beni e inogire lekòl la ansanm ak yon Chapèl-Auditorium, presbitè ak kouvan an.
Pè Peter Reilly, yon jèn prèt, te asigne kòm kire pawas la lane 1952.
An 1960, Evèk Carroll te plase Pè James Conaughton kire Sen Jan. Nan lane 1963, pawas la te selebre konsekrasyon nouvo legliz li.
An 1969, Pè Thomas J. Rynne, yon prèt Ilandè, te tounen katriyèm kite Sen Jan. An 1982, Pè Paul Vuturo te asigne kòm senkyèm kire pawas la. Se li ki te komanse pwogram "Parish Renewal."
An 1986, Pè George Garcia, yon prèt Kiben, te monte kòm sizyèm kire pawas la. Sou direksyon l, kèk nouvo pwogram spirityèl te inizye e enplemante.
Jou 16 Jyen 1992, Achevèk Edward McCarthy enstale Pè Emilio Martin, yon prèt peyi Lespayn, kònm setyèm kire Sen Jan. Li te sèvo kòm vikè pawas la nan lane 1964 epi an 1968 ankò.
Pè Martin kontinye ap swiv tradisyon kire ki te pase avan l yo, pandan l ap kosantre sou apostola ak misnistè pastoral ki ankouraje pawasyen patisipe nan lavi legliz la e fè pawas Sen Jan Apot lan tounen yon kominote kretyen k ap viv ak kè kontan.
Lè yo fin fè pou pran retrèt li an 2010, Msgr. Oscar Castaneda te rele pastè. Li te nan plas nan mwa Out 2013 pa Pè Hector Perez.