Please click here to report any information you know or believe to be incorrect. We will verify with the church and update the website.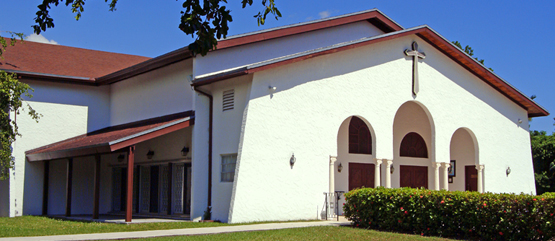 History
When a small group of Catholics met in 1965 for Sunday Mass in the cafeteria of Ponce de Leon Elementary School, they laid the foundation for Saint Raymond. Led by Monsignor Orlando Fernandez, the group met for daily Mass at a rectory on 17th Street. They purchased a second property, celebrating daily Mass there. The extra space enabled parishioners to establish religious education classes that met at the house and in the yard around picnic tables. Many of these early students have remained loyal parish members.
As the community grew, they built a church, dedicated in 1972 to Saint Raymond of Penafort. Church attendance has been seriously curtailed because of barricades erected nearly a decade ago which limit automobile access on the main streets of Coral Gate.
The bilingual parish celebrates Mass in both Spanish and English and supports Respect Life, Saint Vincent de Paul Society and Legion of Mary, and other ministries. Cursillos de Cristiandad, Father Padre Pio Prayer Group, the rosary group, and other prayer groups foster spiritual enrichment. Parishioners also visit the sick, homebound, and elderly.
Los cimientos para St. Raymond se establecieron cuando un pequeño grupo de católicos se reunió en 1965 para la misa dominical en la cafetería de la escuela primaria Ponce de Léon. El grupo se reunía para la misa diaria en la rectoría, localizada en la calle 17, y era dirigido por monseñor Orlando Fernández. Los feligreses compraron una segunda propiedad, en la que también celebraban la misa. El espacio adicional les permitió establecer clases de educación religiosa, que se reunían en la rectoría y en el patio, alrededor de las mesas para picnic. Muchos de aquellos estudiantes continúan como fi eles miembros de la parroquia.
Cuando creció la comunidad, se construyó una iglesia, dedicada en 1972 a San Raymundo de Peñafort. Aunque la asistencia a la iglesia se ha visto seriamente afectada por las barricadas erigidas hace casi una década que limitan el acceso automovilístico a las principales vías de Coral Gate, esta parroquia bilingüe continúa la celebración de la misa en inglés y español, y apoya al Respeto a la Vida, a la Sociedad de San Vicente de Paúl, la Legión de María y otros apostolados. El movimiento de Cursillos de Cristiandad, el Grupo de Oración del Padre Pío, el apostolado del rosario, y otros grupos de oración promueven el crecimiento espiritual. Los feligreses también visitan a los enfermos y a los ancianos.
Nan ane1965 lè yon ti gwoup Katolik te rasanble nan "cafeteria" lekòl primè "Ponce de Leon"an pou yo te asiste lanmès Dimanch, yo te pwofi te pou yo te poze fondasyon Legliz "St. Raymond an." Monseyè Orlando Fernandez, ki te nan tèt gwoup sa a te rankontre avè yo chak jou pou lanmès ki te fèt nan yon prezbitè ki lokalize nan "17th Street." Yo te achte yon dezyèm pwopriyete e yo te kontinye ap selebre lanmès la chak jou. Nan rès espas yo te genyen an pawasyen yo te fè klas pou edikasyon relijyez nan kay, nan lakou tout otou tab piknik yo. Anpil nan ansyen elèv sa yo toujou rete manm nan pawas sa a.
Pandan kominote a ap grandi, yo bati yon Legliz kit e dedikase sou non "St. Raymond Penafort"nan ane 1972. Kantite moun ki frekante Legliz la te vin diminye akòz yon barikad ki te anpeche machin rantre nan ri prensipal yo nan "Coral Gate"depi preske dizan.
Pawas la ki bileng te selebre lanmès nan de lang sa yo: Espayòl ak Anglè. Legliz la te sipòte aktivite sa yo: Respect Life, St. Vincent de Paul Society, Legion Mary ak anpil lòt ministè. Cursillos de Cristiandad, Padre Pio Prayer Group, Gwoup Wozè ak lòt kalite gwoup ankò ede pawasyen yo grandi espirityèlman. Pawasyen yo te vizite malad yo, pansyonè yo, ak ansyen yo tou.