Please click here to report any information you know or believe to be incorrect. We will verify with the church and update the website.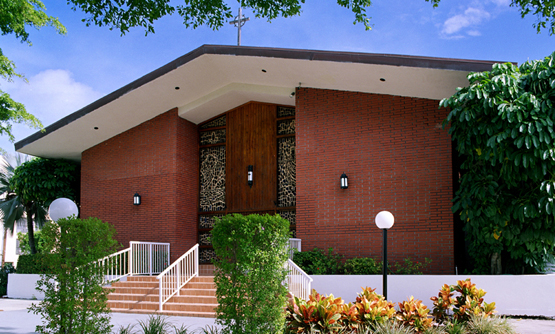 History
Established in 1952 as a mission of Holy Family Church in North Miami, Saint Mary Magdalen served motel vacationers and a few permanent residents with Masses celebrated at the Golden Gate Hotel. As the area attracted an increasing number of vacationers and permanent residents, Most Reverend Joseph P. Hurley elevated the mission to parish level in 1955, and soon after, parishioners began construction of the present church structure, dedicated on Palm Sunday in 1957.
Although parishioners had initially thought they would be able to build a school, the area attracted mostly tourists and retired permanent residents. Instead, they constructed the first archdiocesan residence for the elderly in the 1970s. Marian Towers provides affordable, low-income and government subsidized apartments to people aged sixtytwo and older.
An influx of additional permanent residents, especially Hispanic families with children, raised the need for religious education classes. The growth brought more financial support, fueling an increase in outreach ministries, including Spanish prayer groups, self help groups meeting at the church, and a reactivated St. Vincent de Paul Society. The parish celebrated its fiftieth anniversary in 2005.
Establecida en 1952 como una misión de la iglesia de Holy Family, en North Miami, St. Mary Magdalen servía los visitantes que se hospedaban en los moteles del área y a unos cuantos residentes; sus misas se celebraban en el hotel Golden Gate. En la medida en que la zona atraía un creciente número de veraneantes y residentes permanentes, el Obispo Joseph P. Hurley elevó la misión a parroquia en 1955. Poco después, los feligreses comenzaron la construcción de la estructura actual de la iglesia, dedicada el Domingo de Ramos de 1957.
Aunque algunos feligreses pensaron inicialmente que podían construir una escuela, la zona atrajo mayormente a turistas y a personas retiradas que se convirtieron en sus residentes permanentes. En la década de 1970 decidieron construir la primera residencia arquidiocesana para personas de la tercera edad. Marian Towers tiene apartamentos a bajo costo y con subsidio del gobierno para personas mayores de 62 años de edad.
La afl uencia de residentes permanentes, especialmente de familias hispanas con niños, presentó la necesidad de establecer clases de educación religiosa. El crecimiento trajo además un mayor apoyo económico, lo que provocó un aumento en los apostolados de servicio, entre ellos un grupo de oración en español, grupos de auto ayuda que se reúnen en la iglesia, y una renovada Sociedad de San Vicente de Paúl. La parroquia celebró su 50mo aniversario en 2005.
St. Mary Magdelene te tabli an 1952 kòm yon misyon legliz Holy Family nan North Miami legliz la te konn sèvi moun ki tekonn vin pase vakans nan motel yo ak kèk grenn moun ki teabite nan zòn nan, lamès yo te konn chante nan Golden Gate Hotel. Kòm plis moun te kòmanse vin fè vakans ak abite nan zòn nan, Reveran Joseph P. Hurley fè misyonan tounen yon pawas an 1955, touswit apre pawasyen yo kòmanse konstriksyon legliz ki la jounen jodia, li te konsakre jou Dimanch Ramo nan lane 1957.
Malgre o kòmansman pawasyen yo te panse yo tap kapab bati yon lekòl, se plis touris li te ralè ak moun ki te pran retrèt yo ki tevin abite. Alòs, yo bati premye kay achidyosèz la pou resevwa granmoun aje nan lè zane 1970. Marian Towers gen , apatman leta ede moun peye pou yo ak apatman ki bon mache pou moun ki gen swasann de zan osinon pi plis.
Yon bon valè moun te debake vin ret nan zòn nan, pi fò ladan yo se te fanmiy Panyòl ki tegen timoun, sa fè yo vin bezwen bay kou edikasyon relijye. Kwasans kominotea te mennen avèk li plis sipò lajan, sa te fè ministè èd kòminotè yo grandi anpil, yo te gen gwoup priyè an panyòl, gwoup pou aprann moun yo pran swen tèt yo ki tekonn rankontre nan legliz la, ak yon Sosyete Sen Vincent de Paul ki te rekòmanse fonksyone. Pawas la selebre senkantyèm anivèsè li an 2005.