Please click here to report any information you know or believe to be incorrect. We will verify with the church and update the website.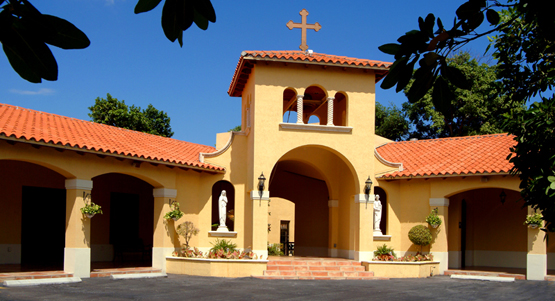 CONTACT INFO
Church (Closed)
Founded May 29, 1968.
Now a mission of Corpus Christi, Miami.
Request for sacramental records should be made to Corpus Christi.
Click here for more information about Corpus Christi.
History
Established in 1968 from territory belonging to Corpus Christi parish and with Father Eugenio Del Busto as the founding pastor, Saint Robert Bellarmine continues to serve the Hispanic community, predominately those from the Caribbean islands, and from Central and South America. Currently, a small contingent of English speakers and of other diverse groups attend the Trindentine Mass celebrated at Saint Robert Bellarmine. Father Del Busto remained pastor for two years, followed by Father Luis Perez and Father Nelson Fernandez, who served the parish for seventeen years.
From its earlier years, parishioners have been active evangelizers through numerous outreach activities. They completed the renovation to the church in 1992 and added a small parish hall, seven classrooms, a kitchen, and a playground. Parishioners established religious education classes for both adults and children.
Parishioners participate in bilingual Bible study and prayer groups and support Saint Vincent de Paul. They serve the area's needy and reach out to senior citizens through visits and activities.
St. Robert Bellarmine fue establecida en 1968. Su territorio pertenecía a la parroquia Corpus Christi, y su primer párroco fue el Padre Eugenio del Busto. Continúa su servicio a la comunidad, integrada en su mayoría por personas de las islas caribeñas, y de Centro y Suramérica. En la actualidad, un grupo de angloparlantes y de otras nacionalidades asiste a su misa tridentina. El Padre Del Busto permaneció como su párroco durante dos años, seguido por el Padre Luis Pérez y el Padre Nelson Fernández, quien sirvió a la parroquia por 17 años.
Desde sus inicios, los feligreses han sido evangelizadores activos a través de numerosos apostolados. En 1992 fi nalizaron la renovación de la iglesia, y añadieron un pequeño salón parroquial, siete salones de clases, una cocina, y un área de juegos para los niños.
También establecieron clases de educación religiosa para adultos y niños; participan en grupos de oración y estudios bíblicos en inglés y español, y apoyan a la Sociedad de San Vicente de Paúl. Ayudan a los necesitados de la zona, así como a los ancianos con sus visitas y actividades.
Depi ane 1968, " St. Robert Bellarmine" t ap fonksyone nan teritwa pawas"Corpus Christi" epi avèk Pè Eugenio Del Busto, Kire ki te fonde l la, Pawas la te kontinye ap sèvi kominote Espayòl la ki te gen plis pawasyen ki te soti nan Karayib la, nan Amerik Santral ak nan Amerik di Sid. Aktyèlman gen yon ti gwoup moun ki pale Anglè ansanm ak kèk lòt gwoup diferan ki asiste lanmès nan "St. Robert Bellarmine." Pè Del Busto te rete nan Pawas la kòm kire pandan dezan. Apre Pè Del Busto te vin genyen Pè Luis Perez ak Pè Nelson Fernandez ki te sèvi nan pawas la tou pandan disetan.
Nan kòmansman premye ane yo, pawasyen yo te fè anpil aktivite sosyal pou ede yo evanjelize kominote yo. Yo te fi ni travay renovasyon yo nan ane 1992. Kote yo te ajoute yon sal pawasyal, sèt sal de klas, yon kwizin ak yon plas pou ti moun yo jwe. Pawasyen te fè tou yon klas edikasyon relijye pou granmoun ak pou timoun.
Pawasyen yo te patisipe nan etid Biblik ki te fèt nan de lang. Yo te genyen gwoup priyè, epi yo te sipòte "St. Vincent de Paul." Yo te ede moun ki te nan bezwen yo. Yo te fè sosyal aktivite pou granmoun yo, e yo te vizite yo.