Please click here to report any information you know or believe to be incorrect. We will verify with the church and update the website.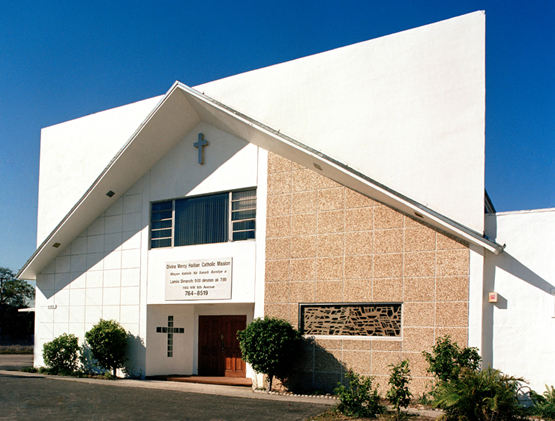 CONTACT INFO
Church (Closed)
Founded 1983.
Now a mission of St. Clement, Fort Lauderdale.
Request for sacramental records should be made to St. Clement.
Click here for more information about St. Clement.
History
Father Amel and Benoit Dereme gathered five Haitian Catholics living in Pompano Beach to celebrate Mass in 1980: Anne Marie (Anna), Revnel Paul, Eskin and two others, in Anna's house. The choir "La Luniere" ("The Light") began with the slogan "Jesus Christ Missionary." Until 1985, Mass was celebrated every Friday at St. Clement. Father Thomas Wenski served all Haitian missions in Dade and Broward counties. A small rented room served for meetings and choir practice. The community found Father Dossous, a Haitian priest, for daily pastoral work; they bought a former Protestant church for worship.
Beginning in 1990, Father Lamy, an American who had worked forty years in Haiti, assisted the mission to grow and to purchase the present church in Fort Lauderdale. He chose the name "Divine Mercy." Father Franky Jean followed in 1998.
Helped by the archdiocese, the Haitian community and Father Franky, the congregation purchased land for a new church. When Father Robes Charles became the pastor in 2004, the community had grown from five people to over 2,000 registered families with varied activities. Father Charles developed ministries and programs for children.
La historia de esta iglesia se remonta a 1980, cuando el Padre Amel y Benoit Dereme unieron a los haitianos católicos que residían en Pompano Beach para celebrar la misa. Se reunían cinco personas, entre ellos Anne-Marie (Anna), Revnel Paul, Eskin y otros dos miembros. El Padre Amel predicaba la Palabra en la casa de Anna. Con el tiempo se estableció el coro La Lumiere ("La Luz"), cuyo lema era "Jesucristo Misionero".
Para 1985, los fi eles celebraban la misa cada viernes en St. Clement. El Padre Thomas Wenski, actual obispo de Orlando, estaba a cargo de todas las misiones haitianas en los condados de Miami-Dade y Broward. Las reuniones y las prácticas del coro tomaban lugar en una pequeña habitación alquilada. Luego encontraron al Padre Dossous, un sacerdote haitiano muy dedicado al trabajo con la comunidad haitiana, y más tarde la misión adquirió el templo de una iglesia protestante, donde continuó su labor.En 1990, el Padre Lamy, un sacerdote americano que había trabajado 40 años en Haití, fue enviado a ayudar a la comunidad haitiana. Bajo su dirección, la misión comenzó a crecer y pudo adquirir la iglesia en la que se encuentra actualmente. El Padre Lamy fue quien escogió el nombre de Divine Mercy ("Divina Misercordia").
En 1998, el Padre Franky Jean se convirtió en el sacerdote a cargo de la misión. Con la ayuda de la Arquidiócesis de Miami, la comunidad haitiana y el Padre Franky pudieron adquirir más terrenos, en los que planean establecer una nueva iglesia. Cuando el Padre Robes Charles fue nombrado párroco en el 2004, la misión que había comenzado con cinco fi eles contaba con unas 2,000 familias inscritas. La misión ha desarrollado un sinnúmero de actividades, y el Padre Charles ha establecido otros ministerios y programas para los niños.
Listwa pawas la kòmanse nan lane 1980 kote pè Amel, frè Benoit Dereme, sè Anne-Marie Bertil, Revnel Paul ak kèk lòt kamarad té renkontre pou rasanble Ayisyen katolik nan brawod ak nan zone tou pre yo. Premye mès la te celebre ak senk moun sèlman. Aprè sa yon koral te vinn fòmé. Lè ti kominote a te komanse grandi yo te pèmèt yo selebre la mès la nan legliz sen Clement jis rivé nan lane 1985. Pè Wenski a lepòk ki monsenyè kounye a te responsab misyon ayisyen yo nan achidyosèz la, te decide lwe on ti pyès kay pou pèmèt ti kominote kap grandi a mennen aktivite pastoral yo. Konsa Pè Dabouz ki te anba direksyon Mons Wenski konn vin bay konkou nan sèvis apostola yo.
Nan lane 1990 te vinn gin pè Lami ki se te on pè amerikin ki te pase 40 lane ap travay en ayiti te vinn responsab misyon an. Anba direksyon n misyon an te grandi ampil, konsa yo te achte on ansyen legliz pwotestan nan powerline pou sevi kom lokal misyon an. On ti tan apre yo vinn oblije achte yon pi gwo legliz ki se kote sa a nou ye jodi a. Se konsa pè Lami chwazi gwo non sa Divine Mercy (kè sensib Jezi).
Nan lane 1998 yo mete pè Franky Jean kire misyon an pou renplase pè Lami ki rentre nan laj. Sou direksyon pè Franky ak konkou achidiosez la avek paroysyen yo yon moso tè te achte nan lide pou bati yon nouvo legliz. Lè Pè Robes Charles monte nan lane 2004, pawas la, ki te kòmanse ak senk moun sèlman, genyen plis pase 2,000 fanmy koulye a. Pè Robes kontinye ap travay ak fi dèl pawas la nan mete divès kalité apostola sou pye pou reponn a bezwen yo genyen nan kominote a.