Please click here to report any information you know or believe to be incorrect. We will verify with the church and update the website.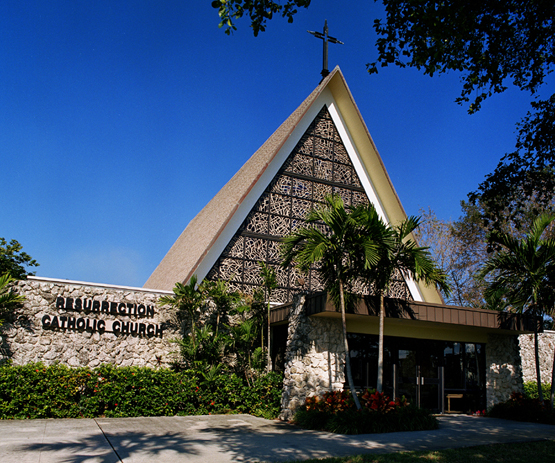 CONTACT INFO
Church (Closed)
Founded Feb. 8, 1958.
Merged with St. Maurice, Dania Beach, Oct. 1, 2009.
Became St. Maurice at Resurrection, Dania Beach, April 26, 2014.
Request for sacramental records should be made to St. Maurice.
Click here for more information about St. Maurice.
History
The parish community of Church of the Resurrection of Our Lord, founded in 1958, started with 450 families who celebrated Mass in a variety of locations, including the Dania Bank and the Dania Jai Alai. Since 1961, Augustinian priests have served the parish with Father John Vrana serving as the first pastor. Archbishop Coleman Carroll dedicated the parish's distinctive A frame church building on Palm Sunday, 1963.
Dedicated pastors and parishioners over the years added the present rectory and the east transept of the church. Father Michael Hughes, OSA, spearheaded the addition of a gathering space, the west transept, and beautiful stained glass windows, which he had designed; the church building was rededicated in 1992.
When Father Anthony J. Tomasulo, OSA, succeeded Father Hughes in 1999, he added a Peace Garden. A tranquil site for prayer and contemplation with a water fall and a bridge, the Garden, an oasis of peace, is the site of the sunrise Easter services. Parishioners, senior citizens wintering in Florida, formed an active St. Vincent de Paul Society, support a food pantry, and hold regular prayer meetings.
La comunidad parroquial de la iglesia Resurrection of Our Lord, fundada en 1958, comenzó con 450 familias que celebraban la misa en diversas localidades, entre ellas el banco de Dania y el Dania Jai-Alai. Desde 1961, los sacerdotes agustinianos han servido en la parroquia, y el primer párroco fue el Padre John Vrana. El Arzobispo Coleman Carroll dedicó el edifi cio de la parroquia, con su distintiva fachada en forma de "A", el Domingo de Ramos de 1963.
A través de los años y con mucha dedicación, sus párrocos y feligreses añadieron la actual rectoría y un crucero oriental a la iglesia. El Padre Michael Hughes, OSA, dirigió la construcción de un espacio para reuniones, un crucero occidental, y la instalación de los hermosos vitrales que él mismo había diseñado. El edifi cio fue dedicado nuevamente en 1992.
Cuando el Padre Anthony J. Tomasulo, OSA, sucedió al Padre Hughes en 1999, añadió el Jardín de la Paz, un lugar tranquilo para la oración y la contemplación, con una cascada y un puente. Es un oasis de paz donde se celebran los servicios al amanecer de la Pascua de Resurrección. Los feligreses y los retirados que pasan el invierno en la Florida, han establecido una activa Sociedad de San Vicente de Paúl, mantienen una despensa de alimentos, y se reúnen con regularidad para la oración.
Kominote pawas Larezireksyon, ki te fonde na lane 1958, te kòmanse ak 450 fanmiy. Mès yo te selebre divès kalite kote, tankou Dania Beach Bank ak Dania Jai-Alai. Depi lane 1961, Pè Ogistinyen pran anchaj sèvis pawas la komanse ak premye vikè a ki se te Pè John Vrana. Achevèk Coleman Carroll te inogire nouvo legliz, ki gen yon fasad nan fòm yon A, jou Dimanch Ramo lane 1963.
Pandan ane ki tap pase yo, ak anpil konviksyon, kire responsab yo ak fi dèl travay pou ajoute yon presbitè, ansanm ak yon lòt pati bò kote lès legliz la. Pè Michael Hughes te pouse anpil pou ajoute yon sal rasanbleman, plis yon lòt pati sou kote lwès legliz la ki gen yon bèl vitral ke l te desine. Konsa legliz te re-inogire nan lane 1992.
Lè Pè Anthony J. Tomasulo, OSA, te rive nan lane 1999, li ajoute yon Jaden Lapè. Se yon kote ou kap leriyè nan trankilite, ki gen dlo k ap koule. Se la sèvis lowò fèt Pak yo selebre. Pawasyen yo, ki an majorite soti nan zòn nò pou vinn pase livè nan Florid la, patisipe nan gwoup lapriyè, nan Saint Vincent de Paul ki sipòte sèvi sbay manje a sila yo ki na bezwen.