Please click here to report any information you know or believe to be incorrect. We will verify with the church and update the website.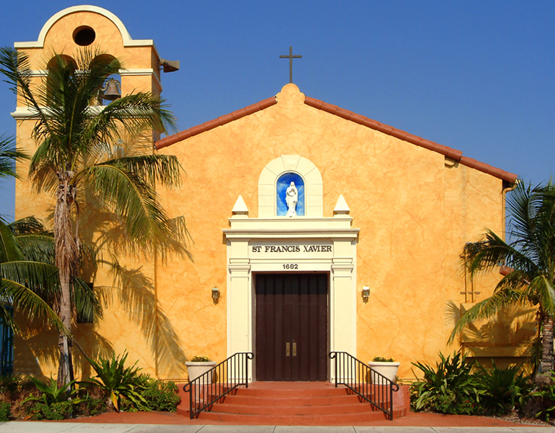 CONTACT INFO
Church (Closed)
Founded Aug. 25, 1927.
Merged with Gesu, Miami, Oct. 1, 2009.
Request for sacramental records should be made to Gesu.
Click here for more information about Gesu.
History
Established in 1927 as a mission of Gesu the only Catholic parish then serving African Americans, Saint Francis Xavier was formed by African Americans who wanted to worship without enduring indignities such as having to sit only in the back of church and having to wait until white parishioners received communion before approaching the altar. Initially, Mass was celebrated in private homes, then in a rented store front before parishioners purchased a lot and constructed a wooden building, funded by the sale of dinners and bricks. In their own building named Saint Francis Xavier/Saint Mary of the Missions African-American Catholics worshiped with dignity and pride.
Recognizing the potential of education as a tool for promoting equality and social change, parishioners founded a school in 1935, and since its inception it has been an oasis of prayer and a beacon of hope in a neighborhood plagued by segregation, poverty, large-scale displacement, loss of businesses because of the Interstate 95 construction, and the struggle for civil rights.
The Mother Church for South Florida's African Americans, the parish continues to serve the community.
Establecida en 1927 como una misión de Gesu la única parroquia católica que en aquel tiempo servía a la comunidad afroamericana St. Francis Xavier fue formada por afroamericanos que deseaban rendir culto sin tener que soportar la humillación de sentarse al fi nal de la iglesia y esperar a que los feligreses anglosajones recibieran la comunión para poder acercarse al altar. Al principio, la misa era celebrada en hogares privados; luego alquilaron el local de una tienda vacía, antes de que los feligreses pudieran adquirir un terreno y construyeran un edifi cio de madera con los fondos obtenidos de la venta de comida y de ladrillos. En su propio local, llamado St. Francis Xavier/St. Mary of the Missions, los afroamericanos podían rendir culto con orgullo y dignidad.
En 1935, los feligreses fundaron una escuela al reconocer el potencial de la educación como instrumento para la promoción de la igualdad y el cambio social. Desde sus inicios, ha sido un oasis de oración y luz de la esperanza en un vecindario que luchó por los derechos civiles pero que estuvo plagado por la segregación, la pobreza, el desplazamiento masivo, y el cierre de negocios a causa de la construcción de la carretera interestatal 95.
La parroquia, iglesia madre de la comunidad afroamericana del Sur de la Florida, continúa su servicio a la comunidad.
Fonde nan lane 1927 kòm yon misyon Jezuit Sen Francois Xavier (Franswa Egzaxye) te sèl pawas nan epòk sa a ki te konn sèvi Afriken-Meriken. Afriken-Meriken yo te mete Pawas sa a sou pye pou yo te selebre Lamè pou yo pat oblije sibi indiyasyon tankou chita jis dèyè lè yo ale legliz oubyen ret tann tout pawasyen blan yo resevwa lakominyon anvan pou yo pwoche devan lotèl la. O kòmansman, Mès yo te konn selebre nan kay prive, apre sa yo te konn fè Lamès devan yon magazen yo te lwe jiskaske pawasyen yo te vin achte yon tèren pou yo te bati yon kay an bwa, ak lajan yo te ranmase nan vann manje. Nan pwòp lokal pa yo Ki rele Sen Francois Zavier/ Sent Mary of the Missions Afriken Meriken Katolik yo selebre Mès yo ak diyite e fyète.
Paske yo te rekonèt enpòtans edikasyon kòm youn nan mwayen pou ankouraje egalite ak chanjman sosyal, pawasyen yo te bati yon lekòl nan lane 1935, e depi lè sa a li te tounen yon kote pou moun lapriyè ak yon siy lespwa nan yon katye ki te anba diskriminasyon, mizè, pwoblèm kay, fayit nan b iznis akòz konstriksyon wout I-95 la, ansanm ak batay pou dwa moun.
Kòm Manman legliz Afriken-Meriken nan sid Florid la, pawas la kontinye sèvi kominote a.