Please click here to report any information you know or believe to be incorrect. We will verify with the church and update the website.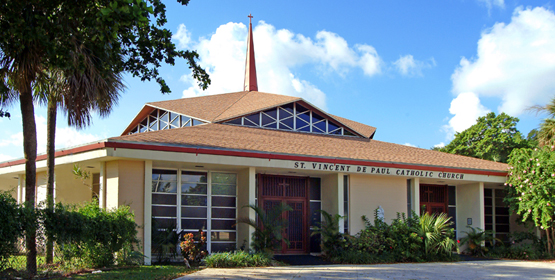 CONTACT INFO
Church (Closed)
Founded March 25, 1962.
Merged with St. Rose of Lima, Miami Shores, Oct. 1, 2009.
Request for sacramental records should be made to St. Rose of Lima.
Click here for more information about St. Rose of Lima.
History
Even before there was a place to worship, parishioners at Saint Vincent de Paul established in 1962 formed a Holy Name Society, created a Rosary Altar, and established a youth group. Together, they on weekends cleared a tract of land, removing remnants of a nursery and a pig farm, and broke ground for a hexagonal church and a rectory in 1964 and within nine months constructed the church, dedicated in 1965, Miami's fourteenth parish. Religious education being a priority, parishioners established both primary and secondary level classes and invited the Daughters of Charity to teach them.
They also added adult education, marriage preparation and established an array of social and spiritual activities.
During the 1980s, Spanish speaking parishioners became the majority, and the arrival of Cuban born Father Jose Sanchez and Costa Rican born Father Egbert Brown enabled the parish to schedule Spanish Sunday Masses. At this time, the number of Haitian parishioners grew, imbuing liturgies with joyous music, now a regular part of Mass.
After thirty fi ve years, the Vincentian Fathers, a missionary order, surrendered parish administration to the archdiocese in 1997.
Antes de contar con un lugar para el culto, los feligreses de St. Vincent de Paul, fundada en 1962, habían establecido la Sociedad del Altar y Rosario, y la del Santo Nombre, además de formar un grupo juvenil. Trabajaban los fi nes de semana para limpiar un terreno, remover los escombros de un vivero y una granja de cerdos, y en 1964 colocaron la primera piedra para una iglesia hexagonal y una rectoría; en sólo nueve meses construyeron la iglesia, la decimocuarta de Miami, dedicada en 1965. La educación religiosa era su prioridad, y los feligreses establecieron clases a nivel primario y secundario, e invitaron a las Hijas de la Caridad para dar las clases. También añadieron clases para adultos y preparación matrimonial, y establecieron una diversidad de actividades sociales y espirituales.
Durante la década de 1980, la mayoría de los feligreses era de habla hispana, y con la llegada de los sacerdotes José Sánchez y Egbert Brown, oriundos de Cuba y Costa Rica, respectivamente, se incluyeron misas en español los domingos. En ese tiempo también aumentó el número de feligreses haitianos, quienes infundieron un ritmo alegre a las liturgias, lo que ya es un elemento integral de la misa.
Luego de 35 años, la orden misionera de los Padres Vicentinos cedió la administración de la parroquia a la Arquidiócesis en 1997.
Menm anvan yo te gen yon plas pou yo te selebre Litiji, pawasyen Sen Vensan de Pòl yo te etabli nan ane 1962. Pawasyen yo te fòme yon Sosyete Sen, yo te kreye yon Lotèl pou Rozè epi yo te fòme you gwoup Jèn. Ansanm yo te netwaye yon moso tè kote yo te retire fatra nan yon kote ke yo te konn plante ak vann plant ak yon fèm kote yo te konn gade kochon pandan chak fen semèn pou yo te ka bati yon Legliz ak yon prezbitè nan ane 1964. Nan yon espas de nèf mwa Legliz la te fi n bati epi li te dedikase nan ane 1965. Sa te fè 14 pawas nan "Miami". Edikasyon relijye te yon priyorite pou pawasyen yo ki te fonde yon lekòl primè ak yon lekòl segondè epi yo te envite Mè ki nan kongregasyon "Daughters of Charity" yo pou vin anseye pou yo. Yo te mete tou edikasyon pou granmoun , preparasyon pou maryaj, yo te fè aranjman tou pou yo te genyen aktivite sosyal ak espirityèl.
Pandan ane 1980 yo, Pawasyen ki pale Espanyòl yo te vin an majorite nan pawas la. Lè sa a Pè Jose Sanchez ki te yon Kiben ak Pè Egbert Brown ki te yon Kostariken te rive nan pawas la yo te kapab selebre lamès an Espayòl chak Dimanch. Nan moman sa a kantite pawasyen Ayisyen yo t ap grandi yo te anime Lamès yo ak bèl mizik. Kounye a yo fè pati Lanmès la regilyèman.
Nan ane 1997 apre 35 ane "Vincentian Fathers" (ki te yon kongragasyon misyonè) te remèt administrasyon Pawas la bay Achidyosèz la.