Monday, October 13, 2008
Bishop Felipe Estevez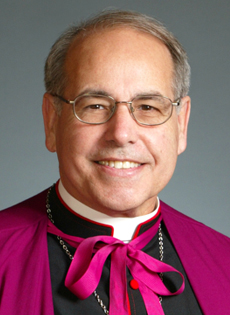 In what ways are Catholics unique? Some would say: in our understanding of the office of the successor of Peter (the Pope); others would add, in our strong love for Jesus' mother; others would state how real our faith in the Eucharist is.
All of these answers are accurate. Let me add one that is rarely mentioned: the Catholic imagination and culture embraces "and" rather than "or". In other words, it is a faith that is very holistic and organic. Let me explain.
To some who are so convinced of the value of the unborn, we add: "AND the value of the dignity of the poor and the immigrants."
To those who emphasize personal responsibility and love for country, the Catholic view reminds them also of global solidarity and the art of peacemaking.
To those who aim for jobs in our cities and stability in our economy, we add concern for refugees, attention to the mentally ill and the rehabilitation of prisoners.
To be a Catholic is the opposite of holding narrow interests and a one-dimensional way of thinking. Father James Murtagh, now serving in the Diocese of Palm Beach, used to talk of reality as an elephant: one's perception is a piece of a bigger reality. Knowledge is to move from your perception to a wider perception. That is a why dialogue with people of different races and cultures, languages and ways of life, is so enriching to our Catholicity — or simply to the art of being a person without prejudice.
"The Gospel of Life" is one of my favorite writings of Pope John Paul II. More than anyone, he shows the integrity and consistency of human life and dignity. One is called to protect the right of the unborn AND his or her mother, AND human stem cells, AND the fertility of couples, AND disabled persons, AND the imprisoned in death row, AND the older person who is dying.
I find very few leaders who are able to reason out the linkage of these issues as well as John Paul II did both intellectually and in practice. In this vast vision and commitment for the human person, Pope John Paul II ordered the issues according to the principle of "hierarchy of truth": the protection of the unborn from abortion and of the dying from euthanasia demand the highest responsibility.
Elections call for both our personal choice AND a well informed conscience. Conscience is more than feeling; it is a voice of truth which expects docility. One of the passions of that great Cuban thinker, Father Félix Varela, was to think rightly. He often repeated: good logic AND Christian charity. Today we would probably say: abide in truth AND love.
As we make our selections in the lonely voting booth, we need to connect our values to party platform positions and then to the individuals in public service who best reflect those values. Among our values are some that are non-negotiable: the rights of the unborn, the human dignity of the embryo, the sacredness of marriage between a man and a woman. There are others of major importance to our country: accessible health care for all, a comprehensive new immigration program and the protection of our most vulnerable population.
To reiterate: As Catholics we need to vote for human dignity AND the common good of all. We need to respect the unborn AND assist the poor AND ensure that humankind will be preserved from a toxic planet. In all matters, and especially voting, our Catholic faith reminds us that is not a question of "or" but of "and".
Most Reverend Felipe J. Estévez, S.T.D.
Auxiliary Bishop of Miami