St. Henry Church's Golden Jubilee Closing Liturgy & Gala
Saturday, Jan 11, 2020 at 4:00 PM - English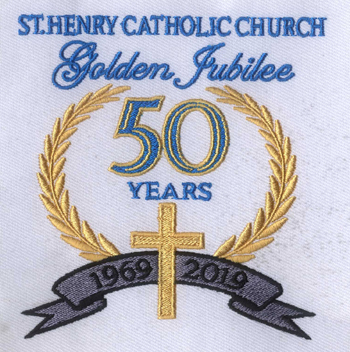 You are invited to St. Henry Church's Golden Jubilee Closing Liturgy & Gala scheduled for Saturday, January 11, 2020, marking the end of its 50th Anniversary celebrations.
Liturgy begins at 4 p.m. with Most Reverend Thomas G. Wenski, Archbishop of Miami, and concelebrating priests.
Gala follows liturgy in the Parish Hall. Gala ticket pricing $100 per person and RSVP by January 3, 2020.
For more information contact 954-785-2450 or [email protected]. Location: 1500 S. Andrews Avenue, Pompano Beach, FL 33069.
Location
St. Henry Church
Church & Parish Hall 1500 South Andrews Avenue, Pompano Beach, FL 33069 (Map)
Contact Information
Amy Cumming
954-785-2450