Champions Challenge 2019
Saturday, Jun 15, 2019 at 9:00 AM - English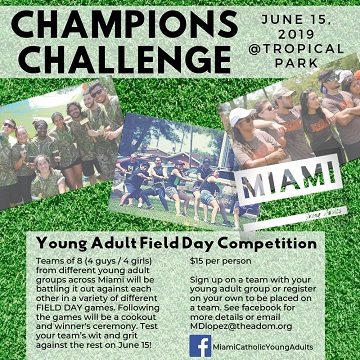 This will be a young adult field day competition with teams of 8 competing for their spot at the winner's ceremony. After testing your team's wit and grit, there will be a cookout and awards for the champions.
Sign up on a team with your young adult group or register on your own to be placed on a team.
Cost: $15/per person.
Location
Tropical Park
7900 SW 40 Street, Miami, FL 33155 (Map)
Contact Information
Michelle Ducker-Lopez