Monday, September 2, 2019
Antonio Fernandez
- Our Lady of Guadalupe Church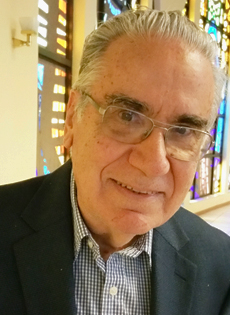 For a long time now, it has struck me that the sunflower is the flower most strongly identified with Cubans' devotion to Our Lady of Charity of El Cobre. From the outset, I thought this was due to the sunflower's most common color, yellow. But, why not use another of the many yellow flowers that we could find in our flora?
There is no need to prove that the sunflower is the flower par excellence that Cubans most commonly offer to Our Lady of Charity, since this is a well-known fact. However, I wanted to find some information that could give us a clue about this tradition.
Most of the information I found point towards the Afro-Cuban cult of Oshun, whose color is yellow and the sunflower its flower, and which finds its syncretistic devotion in Our Lady of Charity of El Cobre. On the other hand, if we stayed with that, we would have no acceptable basis for the use of sunflowers as floral ornaments within our Catholic churches, just as we do not accept the apples, bananas, or tobacco that are used in the different Afro-Cuban rites.
The sunflower (Helianthus annuus) is a plant grown today throughout the world, but it is originally native to Mexico and was introduced to Europe by the Spaniards after the discovery of America. Its Greek name, helianthus, means "flower that spins with the sun." Mainly the Aztecs in Mexico and the Incas in Peru saw in this flower a symbol that represented the sun god.
In ancient Greek mythology there is a nymph named Clytie, daughter of the ocean god and Thetis, goddess of the sea. Clytie fell in love with Apollo, which the Greeks identified with the sun. According to legend, Clytie, in love with Apollo, had her gaze fixed on him every day as he left his palace in the morning until he reached the west at the end of the afternoon. After a while, the nymph transformed into a flower and today she is still in love with her beloved and follows the sun on its daily journey.
The Greek legend cannot be based on the sunflower, since this flower was not known in Europe until the 16th century, but it could be another flower called heliotrope.
This legend makes me reflect on how appropriate it is for the sunflower to represent the popular devotion of Cubans to Mary, Our Lady of Charity. If the Greeks saw Apollo as the sun god, Christians found very early a deep symbolism in the rising sun as the risen Christ, to the point that many of the temples in the first centuries of Christianity were oriented towards the east, where the sun rises.
We can now prove that Cubans are not wrong in considering the sunflower as the representative flower of the Virgin, since she, like the sunflower that continuously turns towards the sun, never ceases to have Jesus as the center of her gaze and attention.
Our Lady of Charity, who holds the Child Jesus in her arms, also teaches us to keep our eyes always fixed on him. The sunflower reassures us about the catchphrase heard throughout the island during the celebrations of the 400th anniversary of the discovery and presence of the blessed Virgin's image on our soil: "To Jesus through Mary."