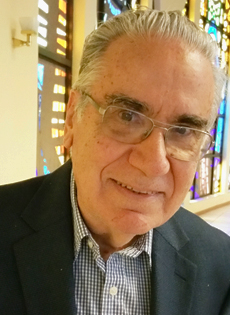 Born in Havana, Cuba; has lived in New York, Puerto Rico and Miami.
Married to Niní, father and grandfather; member of Our Lady of Guadalupe Church, Doral.
Worked in financial field; also possesses master's degree in Hispanic ministries from Barry University.
Lifetime involvement in the Catholic Church includes membership in Federación de Juventudes Cubanas (Catholic Youth Association) in Cuba; leadership of Unión de Cubanos en el Exilio youth group in New York; involvement in pre-marriage, marriage and family life programs in Puerto Rico.
Assisted in the celebration of the CELAM (Latin American bishops) conference in San Juan, Puerto Rico in 1976.
Conducted workshops on liturgy and facilitates Lay Ministry groups for Archdiocese of Miami; facilitates online courses on religious studies for the University of Dayton.
Participant in both archdiocesan Synods.
Recipient of the archdiocese's Primum Regnum Dei Medal in 1998.
Blog Archive
Total records: 8