Monday, June 20, 2022
Fr. Matthew Gomez
- The Archdiocese of Miami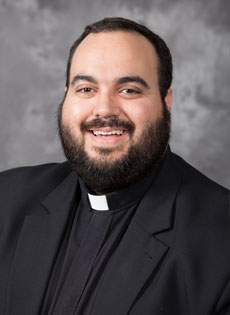 Durante los últimos meses, he estado viajando por la Arquidiócesis de Miami visitando a alumnos de sexto grado para hablarles sobre las vocaciones. La Conferencia de Obispos Católicos de los Estados Unidos patrocinó un programa que comenzó en Detroit en la década de 1980, llamado Focus 11, que ofrece a los alumnos de 11 años (sexto grado) y 11 grado la oportunidad de comenzar a pensar en su vocación.
El punto principal de Focus 11 es cambiar la pregunta que hacen los familiares, los profesores y los amigos: "¿Qué quieres ser cuando seas mayor?" a "Dios, ¿qué quieres que haga con mi vida?". Al hacer esta pregunta, ponemos a Dios en control, y comenzamos a pensar en cómo podemos responder al llamado de Dios, nuestra vocación.
Este es el primer año que regreso en persona desde la pandemia, y pensé que visitar las clases sería una buena oportunidad para relacionarme con los estudiantes. Fue una aventura maravillosa que comenzó el 29 de marzo en el colegio de Mary, Help of Christians y culminó en St. Agnes el 2 de junio. El receso de Semana Santa y las vacaciones de Pascua me dieron un descanso muy necesario, pero se visitaron todas las escuelas (excepto la Basílica de St. Mary, Star of the Sea; prometo que llegaré allí el próximo año).
Parte de mi conversación con los alumnos de sexto grado incluye una sesión de preguntas y respuestas en la que los estudiantes preguntan todo tipo de cosas. Preguntas sencillas como: "¿Qué es lo mejor del sacerdocio?" o "¿Qué estarías haciendo si no fueras sacerdote?". Algunos alumnos son un poco más atrevidos en sus preguntas y plantean cuestiones difíciles como "¿Por qué los sacerdotes no pueden casarse?" o "¿Cuál ha sido el momento más difícil como sacerdote?".
Puedo decir con sinceridad que las preguntas han sido mi parte favorita de las visitas.
Pero se me presentó una pregunta que me llevó a pensar, reflexionar, orar, e incluso contemplar durante mi retiro anual hace unas semanas: "¿Por qué son importantes los sacerdotes?".
Mi contestación inicial fue que no somos importantes. Somos importantes en la medida en que Cristo vive en mí. Si estoy viviendo mi sacerdocio con autenticidad, entonces no ves a Matthew Gómez; ves a Jesucristo. Eso es lo que nos hace importantes. Añadí que, en virtud de nuestro bautismo, todos somos importantes porque Cristo vive en cada uno de nosotros. El estudiante agradeció la respuesta, pero la pregunta permaneció en mi corazón.
Los sacerdotes SON importantes en la medida en que hemos sido "tomados de entre los hombres y constituidos en favor de los mismos en las cosas que miran a Dios para ofrecer ofrendas y sacrificios por los pecados" (Presbyterorm Ordinis #3, citando a Heb. 5:1).
Los sacerdotes SON importantes porque "consagrados de una forma nueva a Dios en la recepción del Orden, se constituyen en instrumentos vivos del Sacerdote Eterno para poder proseguir, a través del tiempo, su obra admirable, que reintegró, con divina eficacia, todo el género humano" (P.O. #12).
Los sacerdotes SON importantes porque servimos como puente entre Dios y la humanidad en el Santo Sacrificio de la Misa. Servimos como puente entre la humanidad y Dios en el sacramento de la reconciliación.
No soy importante por lo que soy y por lo que he hecho; soy importante porque Cristo me ha elegido para ser colaborador suyo en su plan de salvación. Lo único que queda por decir es: ¡Gracias, Jesús!
Al acercarnos a la solemnidad del Sagrado Corazón de Jesús, pidamos por la santificación de los sacerdotes. Recemos para que el Señor inspire a más hombres a entregar su vida en el sacerdocio ministerial. Oremos para que, cada día, demos gracias a Dios por la importancia del sacerdocio.