Monday, April 24, 2023
Bishop Nicholas DiMarzio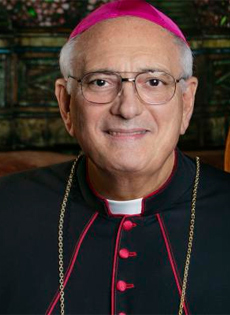 The Biden administration is currently using its authority to grant humanitarian parole to newcomers through processes devised for five countries: Ukraine, Cuba, Haiti, Nicaragua, and Venezuela. The common elements among these countries are political instability, violent conflict, and widespread persecution of certain individuals. The aim of these parole programs is to increase access to humanitarian relief while seeking to minimize irregular migration. These processes rely on an old and tested system of welcoming newcomers: private sponsorship.
This program is only part of a larger admirative policy shift to allow Americans —citizens and permanent residents — to welcome refugees not only from the above-mentioned countries but also from other countries whose cases have been approved for resettlement in the United States.
Immigration law has long included the possibility of individuals in the U.S. offering support to would-be migrants — usually either relatives or friends. In this case, the government, working with national refugee resettlement agencies and other organizations, is asking groups of at least five or more individuals to join in on what is called a "sponsor circle" that will take responsibility for welcoming newcomers into their community. For its part, the United States Conference of Catholic Bishops has launched the Welcome Circle Program to help develop and support sponsor circles.
These sponsor circles can stem from existing groups, such as parishes or other organizations, as well as previously unrelated individuals who join for this purpose. The groups are asked to assist in welcoming the migrants and integrating them into their local communities, and providing needed financial support for the duration of their parole. The first and most key step in integration is finding an appropriate job for the individual, as well as housing. Fortunately, the beneficiaries — single people or members of families — will be eligible to apply for work authorization.
Severe conditions in Ukraine, Cuba, Haiti, Nicaragua, and Venezuela have driven many to our nation. A legal and systematic approach will best serve their needs and the needs of our country, especially as it grapples with widespread labor shortages, in part due to a lack of employment-authorized immigrants. Americans have never been outdone in their generosity to those most in need.
These programs allow religious groups, community groups, and interested individuals to offer sponsorship to those who need immediate relief. Like every immigration initiative, these programs have their naysayers. Some are concerned about the possible financial burden on local municipalities and states, while anti-immigration groups see it as a back-door approach that has no congressional authorization.
The fact is Congress provided the humanitarian parole authority for this very purpose — to allow foreign nationals to enter the United States for urgent humanitarian reasons on a case-by-case basis.
As we look at the situations of these countries and the individuals making dangerous journeys, we recognize an appropriate use of our president's power. There are others who would argue that the responsibility taken by these groups will depend on one individual signing an affidavit of support, which has more of a moral than legal consequence.
My experience as a diocesan resettlement director in the 1970s in the Archdiocese of Newark, amid the resettlement of Vietnamese, Haitian, and Cuban migrants, was that groups, specifically parishes, that took responsibility were stellar in making sure that the migrants were resettled in a proper manner.
There is much to be said about this program, for it is truly an American approach to assisting newcomers in finding a welcoming hand in a country that has been built on the energy and enthusiasm of immigrants.
For more information on the USCCB's Welcome Circle Program, please visit usccb.org/welcomecircles and sign up for an information session.